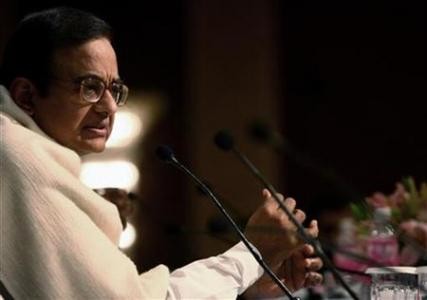 Finance Minister P Chidambaram, at the National Integration Council (NIC) meet in Delhi on Monday, slammed the statistics on economic growth provided by Gujarat Chief Minister Narendra Modi, calling them a 'fake encounter with facts'.
In turn, BJP leader Yashwant Sinha accused Chidambaram of practising 'terrorism with facts', after the meet.
On Sunday, Modi had launched a full-scale attack on the incumbent UPA government while addressing his NRI supporters through a video conference.
"Do you at least agree that when Atal ji (former Prime Minister Atal Bihari Vajpayee) government was there, growth rate was 8.4 percent and now it is 4.8 percent under the UPA government? It was the NDA that gave jobs to the youth. Even employment number has been reduced under the UPA," the CM had said.
Reacting to Modi's claim, Congress spokesperson Digvijaya Singh trained his guns against the NDA prime ministerial candidate Modi accusing him of misleading the people.
"UPA giving its report card every year on every issue.Would Modi pl get his team to look at the UPA Govt website instead of abusing ? FEKU MODI at his best. Giving fake figures of growth during NDA regime," Singh had tweeted.
Chidambaram also did not miss the opportunity to clarify the growth rate statistics at the NIC meet.
"Narendra Modi is reported to have said that growth rate during Vajypayee government was 8.4 percent, nothing can be further from the truth. GDP growth rates for six years of Vajpayee government are: 1989-89 (6.7 percent), 1999-00(7.6 percent), 2000-01(4.3 percent), 2001-02(5.5 percent), 2002-03(4.0 percent), 2003-04(8.1 percent)," said the FM.
He added that the average growth rate during the last five years of the UPA-II government and during the six years of NDA government were on a similar scale at 5.9 percent and 6 percent, respectively. In the April-June quarter, India's economic growth dipped to a four-year-low at 4.4 percent.
"By contrast, average for UPA1 was 8.4 percent, while average for first four years of UPA2 has been 7.3 percent. The two worst years since the turn of the century were 2000-01 (4.3%) and 2002-03(4.0percent)," which were during the NDA regime, he said.
Chidambaram took a swipe at Modi, whose Gujarat government is accused of conducting fake encounters of terrorists Ishrat Jahan and Sohrabuddin Sheikh. "I wonder why Shri Narendra Modi should stage a fake encounter with facts. Ultimately, facts will prevail," the union minister said.
Yashwant Sinha reacting to Chidambaram's statement said, "Chidambaram is practicing terrorism with facts. He is juggling with facts, he is taking out averages of growth rates and claiming economic rate was good (during UPA1)," reported ANI.
"Growth rate was 8.6 percent when we (NDA government) left, today growth rate is 4.8 percent, why isn't he (Chidambaram) comparing that?" he questioned.