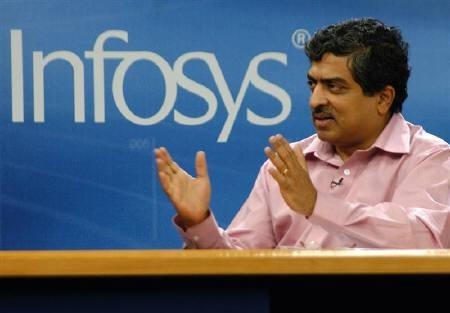 With the 2014 Lok Sabha elections just a few months away, the Congress party has apparently decided to add some freshness by paving the way for billionaire Nandan Nilekani to enter politics.
Nandan Nilekani, co-founder of Infosys and the head of the Unique Identification Authority of India (UIDAI), is said to contest in the next Lok Sabha elections on a Congress ticket from South Bangalore, the seat currently held by Bharatiya Janata Party's (BJP) Ananth Kumar.
Interestingly, unconfirmed reports are doing the rounds that BJP is planning to field former Indian cricket captain Anil Kumble from the South Bangalore constituency in the Lok Sabha elections.
Senior Congress leaders on the condition of anonymity told Economic Times (ET) that both Nilekani and leaders of the party prefer contesting in the Lok Sabha elections but didn't rule out taking the Rajya Sabha route.
"Getting elected by popular vote will give him the extra legitimacy that needs to make a difference as a technocrat-politician," ET quoted a Congress leader as saying. He added that they will make make the final call after the assembly elections on whether Nilekani will take Lok Sabha or Rajya Sabha route.
Nilekani had earlier hinted about making a decision when asked about his future plans during an interation with The Economic Times. "Although there is no final decision as yet, it is about making a choice at this stage. Getting into the mainstream and becoming one who can initiate change for the larger public good," he said.
According to a report by Livemint, Congress is planning to field the 58-year-old technocrat from South Bangalore, where Ananth Kumar has been elected for the fifth time. The paper also reported that BJP is planning to field former Indian cricket captain Anil Kumble though it could not be confirmed.
However, it will be a battle of the giants if Nandan Nilekani and Anil Kumble, who are stalwarts in their respective professions, take on each other in the different game of politics.
Nandan Nilekani, an alumnus of IIT-Bombay, was one of the co-founders of Infosys. He served as CEO and co-chairman of the board of directors of the company before retiring in 2009 to head the Unique Identification Authority of India (UIDAI). Earlier this year, he was given another project called Direct Benefits Transfer (DBT), which was meant to transfer cash directly to beneficiaries based on UID. He had turned down Narayana Murthy's request to return to Infosys in June this year.
On the other hand, Anil Kumble is a big figure in the cricket world. The 42-year-old, right-arm leg spinner and former captain of team India is the third highest wicket taker in Test cricket with 619 wickets, next only to Muttiah Muralitharan and Shane Warne. He has a junction (Anil Kumble Circle) named after him in Bangalore.