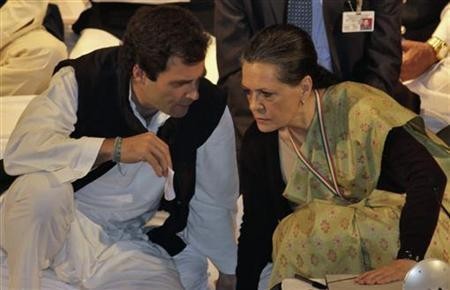 In the tight race for the prime minister post, UPA chairperson and Congress president Sonia Gandhi is expected to project her son Rahul Gandhi as the party's choice of PM candidate.
On the other hand, Bharatiya Janata Party (BJP), in the next 24 hours, will likely announce Narendra Modi as their prime ministerial candidate for the 2014 Lok sabha elections.
Sonia returned home on Wednesday following a medical check-up in the United States. The 66-year-old had undergone a surgery in August 2011, and is scheduled for routine check-up abroad every six months.
A lot has happened since she left for the US on 2 September. Prime Minister Manmohan Singh, on his way back to New Delhi from the G-20 summit in Russia, announced that he will not contest for a third term in the 2014 elections.
He instead declared Rahul, the Congress' vice-president, as the 'ideal choice' for the PM post. "I have always maintained that Rahul Gandhi would be an ideal choice for the PM post after 2014 elections. I will be very happy to work in the Congress under the leadership of Rahul Gandhi," said Singh.
With Singh backing out of the race and the only other eligible Congressman, Pranab Mukherjee, sent to Rashtrapati Bhawan, Sonia does not seem to have much of a choice but to endorse Rahul as PM candidate.
Backing her is Union Home Minister Sushil Kumar Shinde who on Wednesday confirmed, "Rahul Gandhi is our candidate for the Prime Minister's post."
But some Congress leaders like Jairam Ramesh and party president Digvijaya Singh continue to affirm that the party will announce their PM candidate only after the 2014 elections.
"We do not have a presidential form of government. Congress party does not declare PM or CM candidates before elections...Even in the Karnataka assembly elections, we had not declared any CM candidate," Digvijaya had said in July.
Jairam Ramesh, who holds a portfolio in the Ministry of Rural Development, had asked the media to "not reduce national elections to contest of personalities", reported CNN-IBN.
"This is not a choice between Rahul Gandhi and Narendra Modi. We are a party-based parliamentary form of democracy. Parties compete with one another on the basis of their manifestoes, their ideologies, the performance, the sentiments," he said.