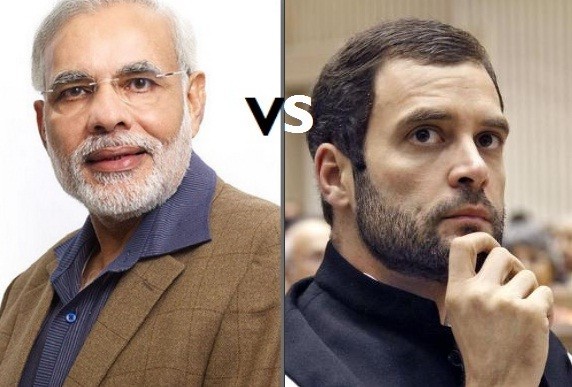 Even as Prime Minister Manmohan Singh finds Rahul Gandhi an 'ideal choice' for the PM post, Bharatiya Janata Party (BJP) is likely to appoint Gujarat Chief Minister Narendra Modi before 19 September.
"I have always maintained that Rahul Gandhi would be an ideal choice for the PM post after 2014 elections (Lok Sabha). I will be very happy to work in the Congress under the leadership of Rahul Gandhi," Singh told PTI, while on his way back from the G20 summit in St Petersburg, Russia.
Reacting to the PM's statement, Modi on micro-blogging site Twitter said, "PM talks of happily working under Rahul Gandhi's leadership next year! Wasn't he doing the same all these years? Misleading the nation again?"
The two-time prime minister ruled out the possibility of him seeking a third term after the 2014 elections, as even Congress wants Rahul Gandhi to lead the party.
Moreover, Singh is already gearing up for a 2014 alliance. He said a reunion with former ally Trinamool Congress is probable.
"In politics, there are no permanent enemies and permanent friends. And in many ways, a week in politics is sometimes an unusually long period of time. So, I don't rule out, for example, alliances," he said.
Meanwhile, Modi is all set to be appointed as a prime ministerial candidate. He opened fire at both Singh and Rahul during his 'lal qila' speech in Chhattisgarh on Saturday.
Modi mocked the PM by comparing him to Chhattisgarh Chief Minister Raman Singh. "Both Manmohan Singh and Raman Singh are doctors. While Raman Singh has worked for Chhattisgarh's progress, Manmohan Singh has sent the rupee to the hospital. Rupee is fighting for its life because of the doctor in Delhi," he said.
On Rahul, Modi lashed out for his 'poverty is a state of mind' comment.
The Gujarat CM has steadily and consistently targeted the Congress and its leadership in every rally or speech he has been attending these past few months. But when Singh was asked whether Modi posed a challenge in the 2014 elections he said, "Modi is no threat. People of India know what he stands for... People of India have to draw their own conclusion what they stand for."
Rashtriya Swayamsevak Sangh (RSS) and the BJP will have a brainstorming session on Sunday. The decision on when the Gujarat CM be officially declared as the party's prime ministerial candidate is soon to come out. The RSS has already spoken to the BJP leadership regarding their prime ministerial choice.
However, senior leaders LK Advani and Sushma Swaraj were opposed to making the announcement before the Assembly elections for Delhi, Rajasthan, Madhya Pradesh and Chhattisgarh, which are due till the end of 2013. But Arun Jaitley, Venkaiah Naidu and Goa Chief Minister Manohar Parrikar believe that the delay in declaring Modi's candidacy might only harm the party's prospects in the polls.
"Whether we declare him or not, people have already declared him as the prime ministerial candidate for the BJP," Parrikar said.
According to reports, the announcement will be made by BJP before 19 September as Rahul is declared as the foremost choice for Congress.