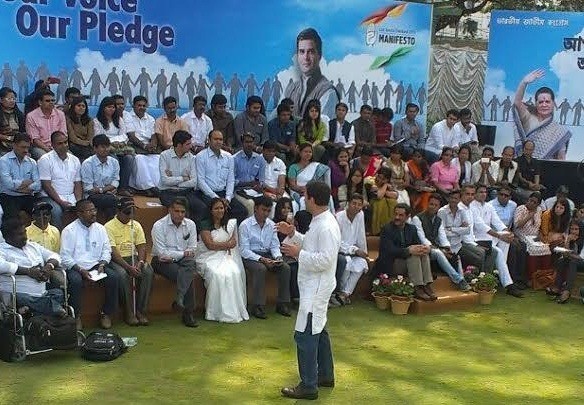 Appealing to the youth of Bangalore, Congress vice president Rahul Gandhi pitched for his party for the upcoming Lok Sabha elections, while discarding the two main opponents - Bharatiya Janata Party (BJP) and Aam Aadmi Party (AAP).
Rahul addressed nearly 100 students and Congress state legislators to get their direct feedback on policies for the Congress 'Youth Manifesto'.
Even Nandan Nilekani, Chairman of Unique Identification Authority of India, was present and addressed the youth present. "Governance is about fixing things, working constructively and getting things done. I joined Congress because it is the only party committed to genuine reform," he said.
The Infosys co-founder had recently declared that he is interested in contesting the Lok Sabha elections for the Congress.
"I am interested in doing something on the political front mainly because India needs lot of change... given a ticket, yes I will contest," Nilekani, 58, had said.
Below are the highlights of Rahul Gandhi's speech in Bangalore
We see two imbalances in the present Lok Sabha with respect to age and gender
Processes of entry and promotion are not transparent in politics
AAP wouldn't exist, if there was no Right to Information; and RTI was brought by the Congress government
AAP indicates that mainstream parties will have to work differently
AAP will realise that criticising a system is much easier than working constructively within it
BJP wants to place one leader on top of the system, AAP wants to away with the system. #Congress wants to transform the system
Real issue is what is the process of selecting candidates in every party. Does any party ask people?
One of the biggest problems... is lack of power women have and the way they are treated
If I want to bring about one change, it would be empowering women
Crux is the respect you have for women. Women are not inferior. Everyone must believe they are capable