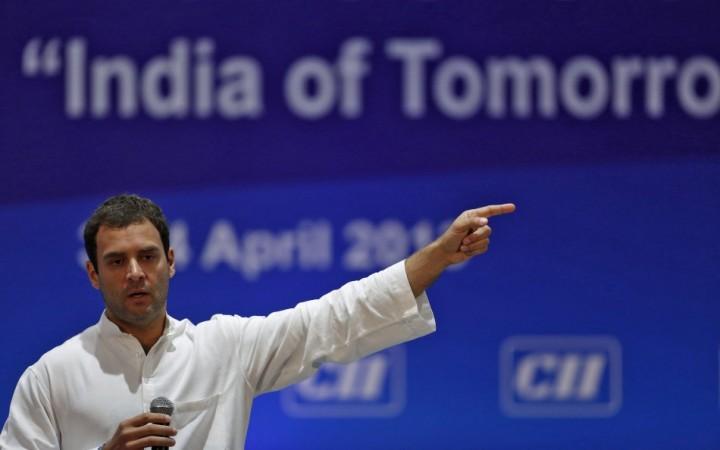 Congress Vice President Rahul Gandhi called Prime Minister Manmohan Singh his 'political guru' and simultaneously stood by his remarks on the ordinance, while addressing a rally at Sangrur district in Punjab.
"Journalists told me in Gujarat that my views on the Ordinance were correct and that the country is behind you. There is no specific time to tell the truth.. If we have to fight against corruption we need to tell the truth," the Congress leader said on Thursday.
Last month, Gandhi had publicly quashed the ordinance on reversing an SC judgement that mandated an immediate disqualification of convicted legislators, passed by the Manmohan Singh Cabinet,.
"My personal opinion is that the ordinance is a complete nonsense, it should be torn up and thrown away," Rahul had said. The Opposition slammed the Congress leader for his blunt criticism and accused him of 'rubbing off the authority' of PM Manmohan Singh. The controversial ordinance was withdrawn by the government
During the Punjab rally, Gandhi praised the PM saying, "I have 2 gurus in politics, The Congress President and PM Manmohan Singh. One of my gurus was given to me by Punjab. PM Manmohan Singh has a clear conscience. We have learnt a lot from him."
The Congress leader also talked about the Muzaffarnagar riots and blamed the Bharatiya Janata Party (BJP) and Samajwadi Party (SP) for the violence. "People in Muzaffarnagar told me that it was BJP and SP who instigated tension, not ordinary people," he said.
To which BJP Spokesperson reacted on Twitter saying, "People of India tell me Cong has always created communal tension for politics. Cong has continued with British divide&Rule policy. who will take responsibility for numerous riots that took place during long years of congress rule?"
Rahul later added that Congress will sweep the upcoming state assembly elections in five states and next year's Lok Sabha polls.