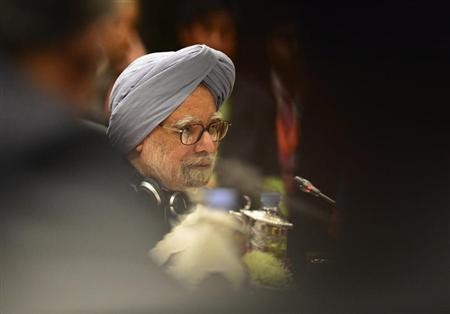 As Prime Minister Manmohan Singh addressed his last probable press conference on Friday, he spoke on various heated issues, including his rejection to be UPA's candidate for the PM race and 1984 Sikh riots.
On Assembly Elections: Congress lost in four out of five state assembly elections held in late 2013.
"Over the past decade we have been through many ups and downs. I would be honest enough to say it could be that price rise was effective in people turning against Congress
Important development in year gone by is that our people have demonstrated faith in democracy by voting in large numbers. Our party did not do well in the recent elections, but I respect the extent of participation."
On Lok Sabha Elections: The general elections are slated to be held in May-June this year
"I am not going to be a PM candidate if the UPA comes into power. In few months, after elections, I will hand the baton over to a new PM, hope it will be a UPA Prime Minister. We will announce the PM candidate at an appropriate time.
Parliamentary system is best suited for a country like India,Presidential system would be counter productive."
On Rahul Gandhi: The Congress Vice President is most favoured PM nominee within his party, he was campaigning for the Congress in the five states where the assembly elections were held last year.
"Our government would have been strengthened if Rahul Gandhi was a part of it (during Dr Singh's two terms as PM). Rahul Gandhi has outstanding credentials to be named the PM candidate."
On Narendra Modi: The three-time Gujarat CM is NDA's prime ministerial candidate
"Without discussing the merits of Mr. Modi, I believe it will be disastrous for the country to have him as Prime Minister.
(Referring to 2002 Gujarat riots) Strength is not massacring the lives of the innocent people in the streets of Ahmedabad"
On Aam Aadmi Party: The common man party made a stunning debut with its convenor, Arvind Kejriwal, throwing former three-time CM Sheila Dikshit out of the Vidhan Sabha and becoming the new Chief Minister.
"They must be given time and chance to justify themselves. People of India have shown confidence in AAP. We must respect the democratic process."
On Corruption: Dr Singh's two terms have been marred by the revelation of various scams related to coal allocation, 2010 Commonwealth Games, 2G spectrum allocation.
"We are deeply committed to the objective of curbing corruption. Any wrong doing will be punished through due process of law.
As far as the charges of corruption are concerned most of these are concerned to UPA 1. We went to the electorate on the basis of our performance during UPA 1. Whether these issues which have been raised by media, CAG, courts, one must not forget belong to period not of UPA2 but previous 5 years
The dimensions of problem have been overstated by media and the Comptroller and Auditor General
Dealing with corruption is not an easy process,various political parties must come together to fight this monster."
On India's Economic Growth
"The cycle of global economic growth is turning for the better. We made the growth process more socially inclusive than it was ever before.
The rate of growth achieved in the past 9 years, is the highest ever achieved. India's average economic is 7.9 percent during the past 9 years of UPA, while it was just 6 percent during NDA (1998-99 to 2003-04). India's Industrial Growth during the past 9 years of UPA has been 7.7%, while it was just 5.5 percent during NDA
I am concerned that we have not been as successful as we should in generating employment in manufacturing sector."
On 1984 Sikh riots: More than 3,000 Sikhs were killed during the anti-Sikh riots
"One can never give adequate compensation for loss of valuable lives, where ever it was possible we had given compensation
Our Govt has done quite a lot,also, I have publicly apologized to Sikhs for the 1984 riots-PM Manmohan Singh
One can never give adequate compensation for loss of valuable lives, wherever it was possible we provided succor to victims."
On His Image as two time PM and Resignation
"I feel somewhat sad, because I was the one who insisted that spectrum allocations should be transparent and fair.
I have never felt like resigning anytime. I have always enjoyed my work, worked with integrity. I have every reason to believe that when history of this period is written we will come out unscathed.
History will be kinder to me than contemporary media, or for that matter the opposition. I have done as well as I could under the circumstances, rest is up to the historians to judge.
My party has never asked me to step down because of any inadequacies that may have characterised my tenure as PM."
UPA Achievements
"The best moment for me in the last decade was when we were able to strike the nuclear deal with the US
Most of you have been routinely using RTI to access government documents, which was not possible earlier.
In 2004, I committed our government to what I said for rural India, we have delivered on that promise. India has become one of the largest producers of agricultural products.
Real wages in rural areas have increased faster than before; per capita consumption in rural and urban areas has increased significantly. The number of people below the poverty line has come down by 13.9 crores.
We have transformed the Educational landscape of our country, with a focus of girl child. We have set up new Institutions
We have not been as successful in controlling inflation, the worry about inflation is legitimate."
On India's Neighbours and bilateral relations
Pakistan: We seek to better relations with our immediate neighbours. It has also been my effort to built long term stable and mutually beneficial relations with all global powers and nations. I believe that good relations between India-Pakistan are important for this subcontinent. Circumstances not appropriate for me to go to Pakistan, not giving up hope of visiting Pakistan before my tenure ends
Sri Lanka: As far as fisherman problem is concerned, I have discussed with Srilanka. Also, its untrue that we are not concerned about Srilankan tamils
United States and arrest of Indian diplomat Devyani Khobragade: There have been recently some hiccups,but these are temporary aberrations, diplomacy should be given a chance
Below are some latest reactions to Dr Singh's press conference
Rajnath Singh, BJP president: PM saying they performed better than NDA is hilarious. Growth rate at our time was 8.4 and it stooped to its lowest during UPA regime. Narendra Modi has made Gujarat a model of development for the country, PM's statement on Modi is condemnable.
Arvind Kejriwal, Delhi CM: People have given us a chance to do away with corruption.
Shivanand Tewari, Janata Dal United: PM's thoughts on Modi are shared by many in this country. And of course AAP will be a big roadblock for Modi in the Lok Sabha elections.
Nirmala Sitharaman, BJP spokes person: PM in his Press Con calls a thrice elected CM as 'mass murderer' while he absolves himself of corruption in UPA-I based on his reelection!
N Chandrababu Naidu, Telugu Desam Party president: Most uninvolved PM addressing the media now for the third time in 9+ years.
Salman Khurshid, External Affairs Minister: He only spoke what he feels, passionately as far as Rahul Gandhi is concerned and bitterly for Modi.
Shahnawaz Hussain, BJP spokesperson: When PM talks of social inclusiveness , he means UPA has hurt all sections of society with inflation & corruption without discrimination. PM admits UPA's failure in areas of inflation & generating employment. Now rest of Congress should also admit this & stop fooling people. PM said that he always worked with honesty. However he did not say that his govt or party leaders worked with honesty.
Ranjana Kumari, Social activist for women's and children's rights: @PMOIndia Why Govt. could not table Women's reservation Bill in LokSabha after passing in RajyaSabha?Why Nirbhaya fund could not be spent?
Kiran Bedi, former IPS officer and social activist: Re-election does not mean immunity. Many matters of UPA 1& 2 are under trial and investigation! And more to come after Lokpal comes into being when whistle blowers r protected...PM says I did as best as I could! Could not do better than. But having @narendramodi as PM would be disastrous for the country! PM performed as a office bureaucrat!With a boss in SG!And even the Cabinet Ministers not paying heed to him!PM conceded not being heeded!
Sitaram Yechury, Communist Party of India leader: Most corruption scams have emerged in UPA regime,must take action against those guilty,not shielding