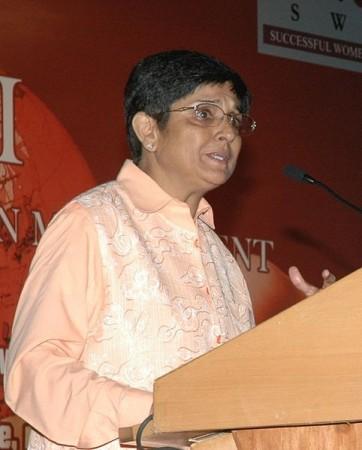 Backing Narendra Modi, social activist Kiran Bedi, who has been a key aide of anti-graft crusader Anna Hazare, declared that she would vote for the NDA prime ministerial candidate in the upcoming Lok Sabha polls.
For me it's India First! Stable,Well Governed,Administered,Accountable and Inclusive.As a an independent voter,my vote is for NaMo

— Kiran Bedi (@thekiranbedi) January 9, 2014
The former IPS officer validated her endorsement by saying that Modi could provide a stable, inclusive and accountable government at the Centre. "Any one of us who wants a scam free country cannot vote back Congress!India needs stability and experienced hands to provide for all!..If v can as today get a stable alternative which has experience to govern and take the country forward why wld I not vote against statusquo," she posted on her Twitter handle.
Upon which, Congress general secretary Digvijaya Singh was quick to retort, "I congratulate Kiran Bedi, but I must say I am not surprised with this. But she should remove the word 'inclusive' from her tweet if she is supporting Narendra Modiji."
But her endorsement came as a surprise to the supporters of Arvind Kejriwal-led Aam Aadmi Party (AAP) as she has always been encouraging to the party which made a stunning debut in Delhi elections.
According to NDTV news channel, Kejriwal had offered Bedi to join AAP during the Delhi assembly polls but she had declined the offer.
However, Bedi has also praised Modi during his speeches at public gathering. In October, while she was in Ahmedabad she had said, "The man (Modi) is delivering and has brought good development in Gujarat. His nomination (as BJP's PM candidate) brings more clarity among voters to make their choices."
Can @narendramodi commIt to a national-toll-free-anti-corruption-helpline with infrastructure to respond with periodic audit of performance? — Kiran Bedi (@thekiranbedi) January 8, 2014
On various occasions she has also advised Modi on his policies or manifestos. On Wednesday, when Modi announced that Gujarat had an anti-corruption helpline before CM Kejriwal implemented it in Delhi, Bedi advised him to announce that post the elections, if Modi comes to power, he shall convert it to a national toll-free helpline.