Despite being attacked by stones and eggs, Kumar Vishwas held the first Aam Aadmi Party (AAP) rally for the upcoming Lok Sabha elections at Rahul Gandhi's turf of Amethi in Uttar Pradesh.
Throughout the day, protestors with black flags tried to scare away the AAP leader by burning effigies and pelting stones at Kumar's convoy on its way to Amethi, via Jagdishpur.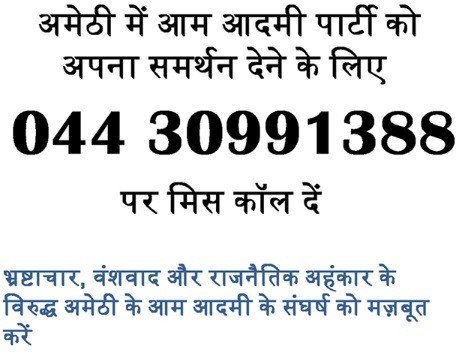 Blaming it all on the Congress MLA from Amethi, Rahul, Kumar said: "All this is orchestrated. Congress supporters, the more number of black flags you throw at my face, the more number of votes we (AAP) will get. You threw blank ink and eggs on me.
"Just decide upon a place and tell me where to come, trust me I will come alone, you can kill me then. I may live or die but won't run away from Amethi. Has Congress declared Amethi as an independent country that I have to take Rahul Gandhi's permission or get a visa to visit?" he said.
Though AAP is yet to declare the first list of its members who will contest in the general elections, Kumar has been eager to fight from UP's high-profile parliamentary constituency, to counter the dynastic politics in India.
Crowds at Kumar Vishwas's rally in Amethi pic.twitter.com/PBQqDQFAZX

— ANI (@ANI_news) January 12, 2014
"I just ask one thing from Amethi. Many times you have elected for a prince, this election, only once, choose a public servant," he said.
Kumar also attacked Congress chief Sonia Gandhi for going to the US for her yearly medical treatments.
"You (Sonia Gandhi) go to America every year for your treatments. Don't you trust the sons of this nation? When you don't trust sons of this nation how can we give country in hands of your son?" he said.
Congress MP Rajiv Shukla reacted sharply to Kumar's rally saying, "The way Gandhi family has served the people in Amethi, anyone might go there but they won't be able to match up."
Meanwhile, Kumar also recalled the coal allocation corruption scam leveled against the Congress-led UPA government saying, "Beni Babu calls me a joker. Joker is a good man, he doesn't eat coal, you know," he said.
AAP's new entrant and former IBN7 editor Ashutosh also addressed the public gathering briefly, recalling the poor conditions of the roads and the lack of electricity in the constituency.