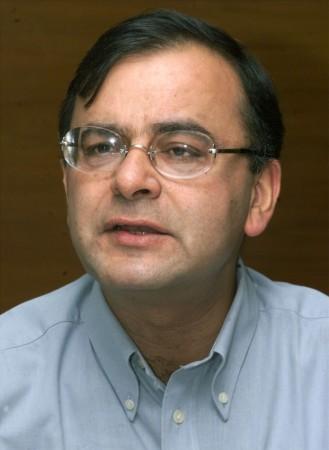 Leader of Opposition (Rajya Sabha) Arun Jaitley struck back at Prime Minister Manmohan Singh left, right and centre irked by his remarks on Gujarat CM Narendra Modi at a press conference on Friday.
"It would be disastrous for the country to have Narendra Modi as Prime Minister," Dr Singh said in what has been his sharpest attack so far against Opposition prime ministerial nominee during the conference. PM Singh also announced his retirement after upcoming Lok Sabha polls.
Dr Singh also described Modi as "someone who has presided over the mass massacre of citizens on the streets of Ahmedabad", a statement that jolted a strong reaction from the BJP cadre on social networking sites.
Just as Twitter posts by various BJP spokesperson; including Nirmala Sitharaman, were doing their rounds in condemnation against Dr. Singh's remark, Jaitley called for an immediate press meet at 3.30 pm at BJP headquarters in Delhi.
On the eve of the press conference by Dr Singh, Jaitley had asked him to respond to five questions based on his tenure. All the questions were related to corruption charges against UPA 2 ministers, economy and economic growth, foreign direct investment and foreign affairs.
Below are highlights to Jaitley's press meet in which he lambasted PM Manmohan Singh's conference:
It was a press conference intended to announce his own farewell. I wish him well, a long life and many years of public service
Rest of the PM's press conf was a big farce, he admits his government failed to curb corruption, inflation. Corruption, Inflation and unemployment-a perfect recipe for disaster, and he is still trying to prove that he governed well
During 2G and coal scam PM could have taken steps to stop corruption, but he did not
PM's argument that his party won in 2009 so corruption doesn't matter, can also be used by criminals who win elections
PM has a different yardstick to measure the 2009 elections and different for the 2013 December assembly elections
He (PM) was a little bitter towards the media and towards us (BJP), especially towards Narendra Modi
There is no other political leader in India who has undergone so much scrutiny as Mr. Modi. Going by the PM's logic, Modi has won in 2002, 2012. So benefit of PM's logic applies for Modi too
It was PM's farewell press interaction; it's time for introspection and not for bitterness
I will certainly call this (UPA) period a wasted opportunity
PM's kindness towards them (AAP) is increasing my suspicion as to what is going on between the two parties
(It is) surprising PM considers Indo-US nuclear deal as highpoint. I think lowest point was bribery of MPs to ensure Indo-US nuclear deal
When charge sheet was filed against Yeddyurappa we asked him to step down. Led to a split and we lost elections, paid a price