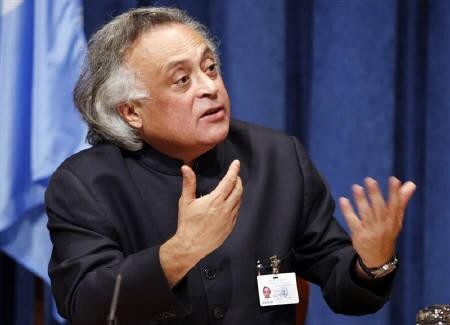 Union minister of Rural Development Jairam Ramesh praised Aam Aadmi Party (AAP) saying that the year-old party is sure to play an important role in the upcoming Lok Sabha polls due April-May.
"Today Congress party is thinking about it (AAP). But the BJP has already lost its sleep due to Aam Aadmi Party. Prakash Karat is saying we are the Aam Aadmi Party. If Badals (in Punjab) don't mend their ways, then Aam Aadmi Party will also eat up the Akali Dal. AAP is like Dashavatar. In different states it can have different avatars," the union minister said during a press conference.
His remarks came two days after his colleague and I&B minster Manish Tewari dismissed Arvind Kejriwal-led AAP saying that in the past several parties had made revolutionary entry in Indian politics but soon disappeared.
"Don't make fun of them. Making fun of them would be proved wrong," Ramesh, who has been a key Congress strategist warned, noting that the AAP cannot be ignored after its spectacular debut in Delhi assembly elections.
"We cannot ignore Aam Aadmi Party... Because what they are agitating about-- corruption, austerity in politics, simplicity in politics-- these are legitimate values," the Union Minister said.
Ramesh also frowned upon the time his Congress-led government took to implement the anti-graft Lokpal Bill, the movement which nudged Kejriwal and several others to form the AAP in 2011. "If we had brought the Lokpal Bill two years back, we wouldn't have been facing the problems we are," he said.
Meanwhile, AAP senior leader Yogendra Yadav has begun campaigning in Haryana on local issues, where assembly elections are due later this year. The AAP will be contesting in all 90 assembly seats.
On Tuesday itself, Yadav held 23 public gatherings and nukkad sabhas in Mewat. "Great response. Something in the air. Am I getting carried away?.. At one of the dozens of nukkad sabhas..the response at each of these was quite electrifying.." he posted on his Twitter handle.