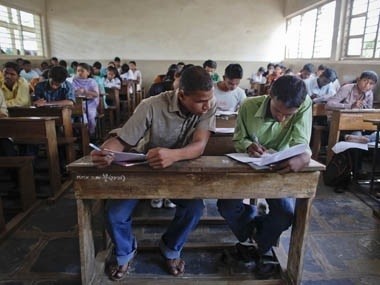 The results for the JEE (Advanced) have been declared.
Candidates can check the results by logging on to www.jeeadv.iitd.ac.in.
JEE is a common entrance examination conducted for admission to various engineering courses such as B. tech, B.E, B. Arch and B. planning. This year's exam was conducted on 25 May and the answer keys were released on the official website on 1 June.
Scores obtained in the JEE (Advanced) can help candidates obtain admission to 16 Indian Institutes of Technology (IITs) and the Indian School of Mines, Dhanbad.
As many as 9,784 seats are available in these top Indian institutes for candidates seeking admission.
IIT Bhubaneswar - 180 seats
IIT Bombay - 880 seats
IIT Mandi - 120 seats
IIT Delhi - 851 seats
IIT Indore - 120 seats
IIT Kharagpur - 1341 seats
IIT Hyderabad - 220 seats
IIT Jodhpur - 160 seats
IIT Kanpur - 827 seats
IIT Madras - 838 seats
IIT Gandhinagar - 150 seats
IIT Patna - 200 seats
IIT Roorkee - 1065 seats
ISM Dhanbad - 962 seats
IIT Ropar - 120 seats
IIT (BHU) Varanasi - 1090 seats
IIT Guwahati - 660 seats
To check the complete details about the intake capacity of IITs and ISM Dhanbad in each course, click HERE.
There are also other institutes that offer admission based on the JEE Advanced 2014 results--
Rajiv Gandhi Institute of Petroleum Technology, Ratapur Chowk, Rae Bareli, UP
Indian Institutes of Science Education and Research (IISER)
Indian Institute of Space Science and Technology Thiruvananthapuram
Indian Institute of Science, Bangalore
IIT-Kharagpur, which coordinates the test, will open the website for online filling of choice for various courses in IITs and ISM from 20 June and it will be closed on 24 June.
Candidates interested in enrolling for the B.Arch Course are required to take the Architecture Aptitude Test (AAT), only for JEE (Advanced)-2014 qualified students, on 26 June. The results for AAT will be declared on 29 June.
The first round of seat allocation will be announced online on 1 July, second round of seat allocation on 7 July and third round of allocation on 12 July. For complete details about online choice-filling and seat allocation, click HERE and HERE.