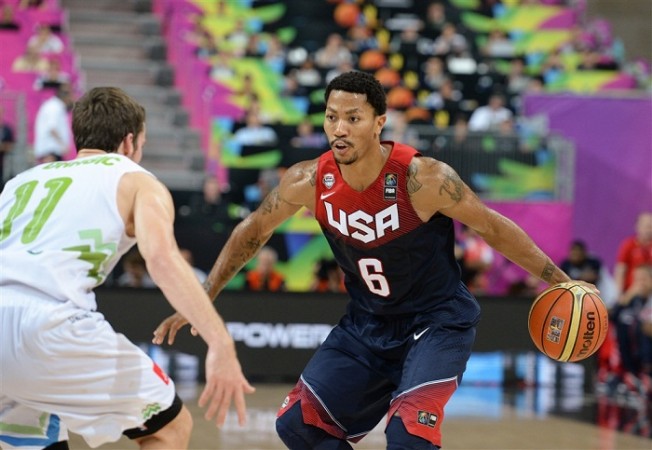 In a repeat of the semifinal from four years ago, USA and Lithuania lock horns one more time with the Americans looking to continue their smooth progress all the way to the final of the FIBA Basketball World Cup.
Where to Watch Live
The semifinal is scheduled for a 9 pm local time (12.30 am IST, 3 pm ET) start with live coverage on Neo Sports and Neo Prime in India. International viewers, including India, can live stream the action HERE. Viewers in the US can catch the action on ESPN, or via live streaming online HERE.
After seeing hosts Spain shocked by France in the quarterfinals on Wednesday, the USA will be aware of the pitfalls of complacency. The Americans beat Lithuania in the same stage of the competition in 2010, and a repeat of that 89-74 victory will be the target come Thursday night.
"We're confident in ourselves," USA's main man of the tournament Kenneth Faried told FIBA's official website. "We don't know what's going to happen. We don't know where the chips may fall, but we're confident in each other. We're confident in ourselves.
"God willing, we will win the tournament and go home with a gold. But, if not, as long as we put our best effort forth and our best foot forth, then we got to live with the results."
Lithuania have been quite good en route to the semifinals, but their performances have been all the more impressive because that they lost one of their best players in Mantas Kalnietis right before the start of the tournament – a blow which many thought they would not get up from.
However, Lithuania have banded together as a team with Toronto Raptors big man Jonas Valanciunas leading from the front, averaging 12.9 points and 8.6 rebounds a game.
"When we lost Kalnietis, I was thinking that would be a huge problem," coach Jonas Kazlauskas admitted. "He's everything for this team. I'm very happy how we're playing without him.
"I'm very proud of my players despite all the problems we had at the beginning. We did really a great job.
"[Valanciunas] has matured into a very good player. He takes a lot of responsibilities," Kazlauskas added on the 22-year-old. "This is what we expect from him. And we want him continue doing this."
While USA will give enough attention to the danger men from Lithuania, their primary focus will be on their strengths. Because, at the end of the day, if all the players of the USA team perform to their potential in the semifinal, then they should be looking at yet another FIBA Basketball World Cup final.
"We're ready," added Faried. "We're going to lock in and be ready for that one.
"I know they got Valanciunas, who plays for the Toronto Raptors. He's a good big, and he's going to be a force down there, but we're ready for him. We're ready for whatever."