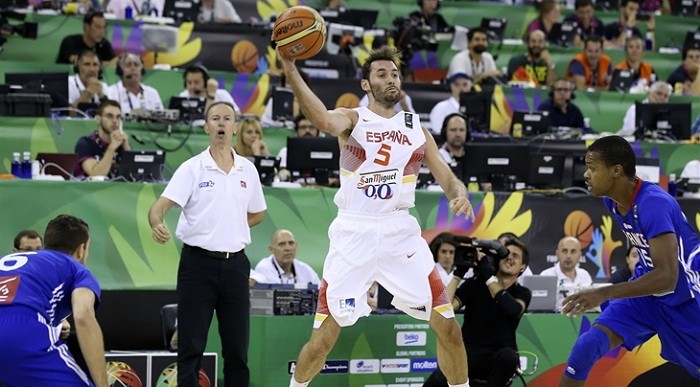 After the USA and Lithuania made it to the semifinals of the FIBA Basketball World Cup, it will be the turn of two of Spain, France, Serbia and Brazil to book their own places in the final four when the quarterfinal round resumes on Wednesday.
Where to Watch Live
Serbia vs Brazil is scheduled for a 6 pm local time (9.30 pm IST, 12 pm ET) start, while Spain vs France will begin at 10 pm (1.30 am IST, 4 pm ET). TV coverage in India will be on Neo Sports and Neo Prime. The FIBA Basketball World Cup will be shown live in the US on ESPN. Viewers can also catch the action via Live Streaming online HERE. International viewers, including India, can Live Stream all the action HERE.
The first game of the day will be an intriguing one between a young Serbia side and the experienced Brazil. Serbia, after disappointing in the group stages, were quite impressive in their round of 16 win over Greece, toppling the fellow Europeans 90-72.
Another similar performance will be needed on Wednesday if they are to stop Brazil from entering the semifinals with the South Americans still probably buzzing from their last 16 win over arch-rivals Argentina.
"I think it was destiny," Marcelinho Huertas told FIBA's official website after Brazil made it to the quarterfinals for the first time in 12 years. "For us, the most important thing was to get this win.
"It didn't matter the rival we had. We needed to finally get this win. For most of the Brazilian people, it was over Argentina which probably makes them feel better."
Brazil will have the upper hand going into this last eight encounter, having beaten Serbia 81-73 in the group stages. However, Huertas is expecting a different match up on Wednesday, considering what is at stake.
"It's going to be a different game, a lower score," added Huertas. "I don't think any team is going to take a big lead.
"When it comes to games like this, defenses are strong, games are more point-by-point. Right now we have to respect Serbia. Their motivation is really, really high after beating Greece, especially the way they did. We have to be really focused to get this win.
"They're a very talented team. They have (Nenad) Krstic back now. He's a big-timer for them. They have a very young and talented team with (Nemanja) Bjelica, (Bogdan) Bogdanovic and (Milos) Teosodic. We know he's a killer."
While Serbia vs Brazil is expected to be an extremely close encounter, Spain vs France should be a lot more straightforward, considering the impeccable form of the home side.
Spain have looked near unbeatable so far in this tournament, and are considered as the most likely team to stop USA from defending their title.
Having dispatched France 88-64 in the group stages, Spain, who thumped Senegal in the round of 16, will be confident of marching into the semifinals.
"Sometimes in the group phase matchups, you don't want to show everything because you might see those teams down the road and you still need to surprise them," said Spain's Rudy Fernandez. "I'm sure they [France] will bring new things to the table and we need to be ready for them.
"Every game is different and as a team you need to shake things up a bit, because five games in, the other teams have you pretty well scouted. So, of course, you need to change things here and there," he added on facing France, who edged Croatia in the pre-quarterfinals to setup this unenviable clash against Spain.