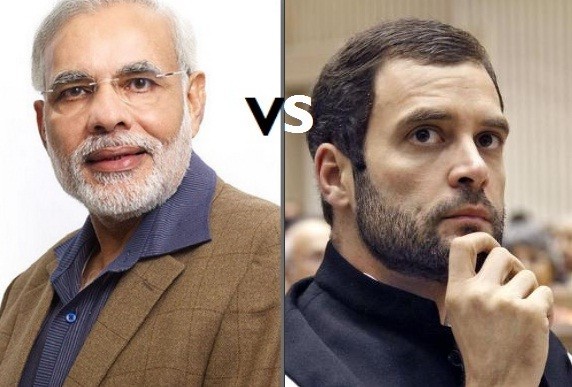 It was a showdown between two of India's top rival politicians for the upcoming 2014 Lok Sabha elections. While NDA prime ministerial candidate Narendra Modi, unfazed by the series of bomb blasts, reached Gandhi Maidan in Patna for his 'Hunkar Rally', Congress Vice President Rahul Gandhi was greeted by a massive crowd at the national capital.
Here are the highlights of Modi's speech in Patna, Bihar:
This isn't a mega-rally, it is a show of people's strength.
Whenever India has needed anything, it looked at Bihar and this state provided it. When nation was immersed in corruption then it was this Bihar that gave the nation JP Narayan.
When people ask me why the Bihar chief minister, who was my friend, left us, I say the man who can leave JP (JP Narayan), won't stay with the BJP.
We have chief ministerial meetings and once I was with my Bihar friend (CM Nitish Kumar) on the same table. However, he was looking left and right - I told him there is no camera man please eat. There is a limit to hypocrisy.
You see our Lalu ji (Lalu Prasad Yadav) never leaves a chance to abuse me but 3 months ago he had an accident and I called him. I did not tell media but Lalu ji called media and said this man who I abuse called me and asked about me.
Congressmen are saying why is Modi calling him (Rahul Gandhi) 'Shahzaada'. If you feel bad on being called 'Shahzaada' then the nation also feels bad on this dynasty politics. JP fought for democracy all his life and went to jail for it as well. Dynasty is biggest enemy of democracy. Other enemy is casteism, communal politics & other is opportunism.
BJP-ruled states have implemented 20-point program for poverty eradication.
I used to sell tea on trains. Even the Railway Minister doesn't have my experience of what one faces on trains.
Pakistan beheaded Jawans from Bihar and a minister in Bihar Government said people join the Indian Army to be martyred. Should you tolerate this insult?
Congress is not bothered about farmers or poor people. Congress has insulted poor by claiming that you can have full meal for ₹12.
Bihar BJP has demanded a ₹50,000-crore package and the people of this state must get it.
Here are the highlights of Rahul Gandhi's speech in Delhi:
Sheila Dikshit's (Delhi CM) government brought about a revolution in the transportation sector in Delhi. Her development project, Delhi metro, is being copied not only in India but in Indonesia as well!
A Congressi is one who helps the needy - rich or poor and fight for them. Fights with love and not rage. When you see a needy person and feel for them, want to help them, then you are a Congressi.
Our politics is underprivileged's politics.
We introduced RTI (Right to Information) and made public all the decisions that were once taken inside closed doors.
We have not just constructed three times the number of roads than by the NDA but also developed education, health and now the Food Security for the poor.
In Rajasthan, Congress government provides free medicines to the needy. I believe that's the right of every citizen.
I'll make it possible that your voice reaches the Parliament from here and you'll be there and in the assembly one day.