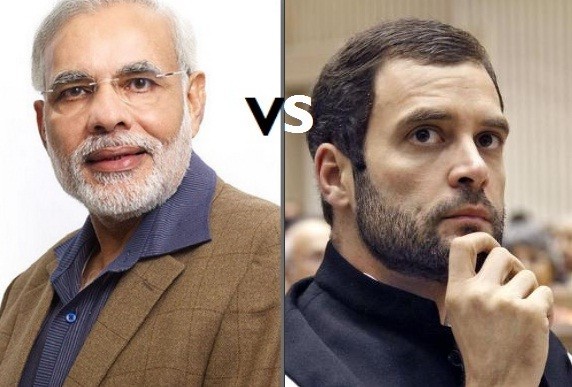 In the run-up to the 2014 Lok Sabha elections, Bundelkhand has become the new battleground for NDA prime ministerial candidate Narendra Modi and Congress Vice President Rahul Gandhi.
Bharatiya Janata Party (BJP) nominee Modi is slated to address a mega rally in Jhansi in the Budelkhand region of Uttar Pradesh on Friday, just 24 hours after Rahul slammed BJP's 'India Shining' politics for the region.
"Bundelkhand has become a victim of the slogan of India shining. The politics of India Shining has ignored the screams of the people of Bundelkhand for development. Did you feel the glaze of India shining? This is politics of air-conditioner (those sitting in air-conditioned rooms), the politics of industrialists, they practise," Gandhi had said while addressing a rally in MP, where BJP has been ruling since a decade.
Before addressing the Vijay Shankhnaad rally in Jhansi, BJP booked a 20-coach special train for 7,000 workers from Chitrakoot and Banda districts in UP. The party spent ₹17 lakh to arrange for the train, out of which ₹12 lakh was spent on fares and the rest for security.
Modi is not only aiming to influence voters in the constituencies of the Bundelkhand region during the Jhansi rally, but also voters from districts like Panna, Guna, Datia, Shivpuri, Chatarpur and Teekamgarh in Madhya Pradesh, which are scheduled for assembly elections on 25 November.
The Bundelkhand region, which had been under-represented in state and central politics, has gained importance this election year with Congress' approval on bifurcation of Andhra Pradesh to carve out a separate Telangana.
The region which had been a stronghold for regional parties, Samajwadi Party (SP) and Bahujan Samaj Party (BSP), might witness a fresh political tussle between Congress and BJP.
While Gandhi has been focusing on the Bundelkhand region for some time now and helped in providing financial packages for the area, Modi will reportedly seek an account of the ₹7,200-crore package given to the region during his Jhansi rally.
BJP leader Uma Bharti and former Uttar Pradesh chief minister Kalyan Singh, who had merged his regional party with BJP this year, will also be present at Modi's rally at the GIC grounds in Jhansi.
Watch Rahul Gandhi Slamming BJP's 'India Shining' politics in the video below.