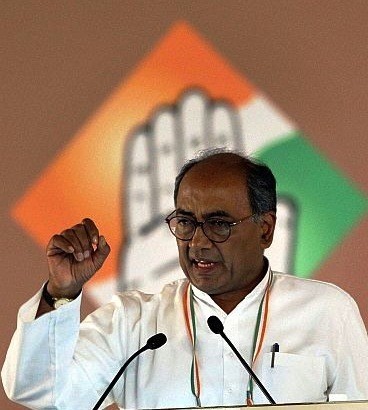 Both Bharatiya Janata Party (BJP) leader Sushma Swaraj and Congress spokesperson Digvijaya Singh have vouched for each other as superior choices for their parties in the upcoming prime ministerial race next year.
The round of mutual admiration was started by the Congress leader on Sunday, when he lashed out at the current BJP prime ministerial nominee Narendra Modi.
Singh called Modi a 'liar' for his remark during an interview in Dainik Bhaskar that India's first Prime Minister Jawaharlal Nehru had not attended his Home Minister Sardar Vallabhbhai Patel's funeral back in 1950.
Citing the biography of former Prime Minister Morarji Desai, where an account of Nehru attending Patel's funeral was mentioned, Singh claimed to 'expose' Modi.
"And BJP wants Indian Voters to vote for this Megalomaniac Psychopath Lier! Couldn't BJP find a better leader ? What's wrong with Sushma ?" he tweeted.
Interestingly, Swaraj had supported BJP veteran LK Advani to delay the announcement of BJP's nominee for the 2014 Lok Sabha elections.
A probable reason was that she had been expecting to be the first choice for the PM candidacy. In 2009, Advani made Swaraj the Leader of Opposition in Lok Sabha. In some democracies, it indicated her as the next PM candidate of the party.
Hours later, Swaraj reacted on Twitter saying, "Even I think Digvijaya Singhji is a better candidate than Rahul Gandhi."
Congress Vice President Rahul Gandhi has long been projected as his party's prime ministerial candidate. He has been addressing mega rallies in states where assembly polls are due in November and December this year.
During one such rally in Indore, Madhya Pradesh, Gandhi had said that an intelligence officer told him that Pakistan's intelligence organisation - ISI - was in touch with Muslim youths in riot-hit Muzaffarnagar district, where a Hindu-Muslim clash was witnessed in August.
His remarks provoked the Opposition to demand an apology from him for degrading a community. Moreover, the BJP would be registering a case of 'hate speech' against the Gandhi scion.
Congress leader and Delhi CM Sheila Dikshit responded to it saying Gandhi was only in his 'learning' stage. "He is learning ... Let us not pre-judge him," she told CNN-IBN in an interview.
Also, NCP chief Sharad Pawar, who has been supporting the Congress, came out and said that Gandhi had yet to prove his mettle. Pawar declared that he would not be part of the Congress-led UPA-3, if it comes to power in the 2014 elections.