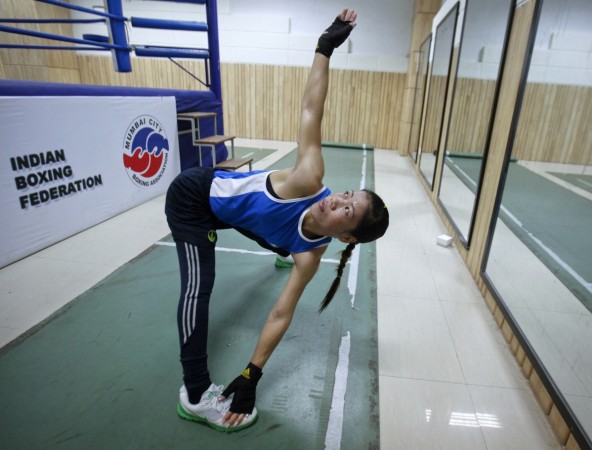 Olympic bronze medallist MC Mary Kom defeated new sensation Pinki Jangra to make it to the 13-member Indian boxing squad for the 2014 Asian Games in Incheon, South Korea, which starts next month.
Jangra had made it to the 2014 Commonwealth Games squad after beating Kom in the trials but the veteran bounced back and proved her class during the the Asian Games trials conducted by the Indian Olympic Association (IOA) ad-hoc committee at the National Institute of Sports (NIS) in Patiala on Wednesday.
Kom, who qualified for the 51kg category, said was delighted to make the cut and assured that she would do her best to bring laurels to the country.
"Pinky was lucky against me that time and the refereeing had gone in her favour during the CWG trials. But I am happy to have defeated her this time," Kom told TOI.
"Pinky is a good and promising boxer. But my strength is my experience and I will give my best to clinch a gold medal in Incheon. I am ready for the challenge."
Kom has not been part of any international event after the 2012 London Olympics but is determined to bag a medal this time.
Meanwhile, Commonwealth Games gold medallist Akhil Kumar is back in the ring after three years. It was a huge moment for the 33-year-old as he was sidelined due to a string of injuries, after his appearance in the 2011 World Championship.
Kumar beat Vikas Malik and Rohit Tokas to qualify in the 60kg category.
"I am back and I promise temperature inside the ring will go up when I step in," the boxer told PTI.
According to Kumar, his wife and boxing coach Poonam and his colleague Mandeep Jangra boosted his confidence.
"It was important to fight hard and prove it to myself and nobody else that what I had been trying for, and all my efforts were working towards the right direction," Kumar said. "She has been the backbone of my efforts and I know this is as much her achievement as it is mine."
Meanwhile, former World Championship bronze medallist Vikas Krishan also made a comeback, after he grabbed the 75kg category in the trials. Krishan was a 69kg gold medallist in the 2010 Asiad. However, he has been out since his controversial pre-quarterfinals loss in the 2012 London Olympics.
Incheon Asian Games will commence on 19 September and end on 4 October.
Squad
Men: 49kg: L Devendro Singh; 52kg: Gaurav Bidhuri; 56kg: Shiva Thapa; 60kg: Akhil Kumar; 64kg: Manoj Kumar; 69kg: Mandeep Jangra; 75kg: Vikas Krishan; 81kg: Kuldeep Singh; 91kg: Amritpreet Singh; +91kg: Satish Kumar
Women: 51kg: MC Mary Kom; 60kg: L Sarita Devi; 75kg: Pooja Rani