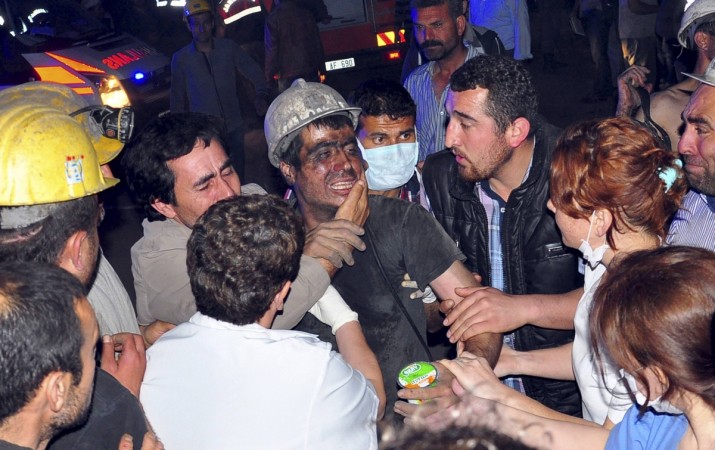 A fire caused by a transformer explosion in a coal mine in western Turkey has left 201 people dead, Turkish Energy Minister Taner Yildiz has confirmed.
Government sources have said that 80 injured people have been pulled out from the mine, while 8 others who were uninjured were also rescued. Rescuers work overnight until Wednesday morning to try to reach to hundred of more miners still trapped underground.
Yildiz told reporters on Wednesday about the workers inside the mine at the time of the accident; only about 360 of them including those killed, had been accounted for, BBC reports.
An electrical fault triggered the power cut, making the mine cages unusable. Reports suggest that those trapped are 2km below the surface and 4km from the mine entrance.
The blast occurred at about 12:30 GMT on Tuesday. Hundreds of worried relatives gathered at the mine located about 450km west of the capital Ankara.
Yildiz said 787 people had been inside the mine when the blast happened.
TV footages from local channels showed rescuers helping people make their way out, many of whom had faces and their dresses painted in dark soot and dust. Some of the injured were brought out in stretchers and taken to the ambulances waiting nearby.
About 100 rescuers, dozens of ambulances and a helicopter were present in the scene, CNN reported citing officials.
"The rescue teams are very experience," Yildiz told reporters. "They know what they need to do."
He added that in the initial moments after the blast, it was important to pump oxygen inside the mine. Officials turned an exit pipe "into a clean air pipe," so "there is fresh air being given in places where there is no fire," he said.
Prime Minister Recep Tayyip Erdogan has postponed his trip to Albania and has decided to visit Soma instead.
The Mine's owners, Soma Komur Isletmeleri, said an investigation was underway and that the accident had occurred despite the "highest safety measures and constant controls".
"Our main priority is to get our workers out, so that they may be reunited with their loved ones," the owners said in a statement quoted by the BBC.