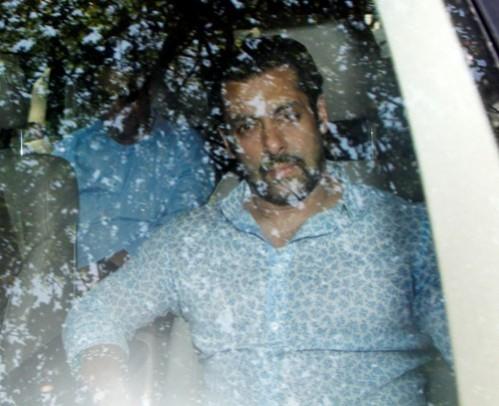 Bollywood superstar Salman Khan has been found guilty in his infamous 2002 hit-and-run case by Mumbai sessions court on Wednesday, 6 May.
The latest reports suggest that the "Kick" actor will be taken to Arthur Road Jail in Mumbai from court and will be sentenced to five years in jail.
Rare and Unseen Photos of Salman Khan
The "Dabangg" star had allegedly rammed his SUV into a bakery in suburban Bandra in Mumbai on 28 September 2002, killing one person and injuring four others.
However, apart from a number of controversies, Salman, who started the non-profitable charitable organisation, "Being Human", is also known for his humanitarian and charity works.
His ardent fans have been sharing the photos of his charity works on social media sites after the 2002 hit-and-run case's verdict was declared on Wednesday.
Check out the photos below:
#WeStandBySalmanKhan @BeingSalmanKhan Sir We Love You pic.twitter.com/P0xgQSCXJR

— Being Shovon ( শুভন) (@Being_Shovon_) May 6, 2015
Guilty or not,Here r 5 reasons why fans will always love @BeingSalmanKhan http://t.co/MBt0gq7tCC #WeLoveYouSalmanKhan pic.twitter.com/PlssD8fmtt — Being Shovon ( শুভন) (@Being_Shovon_) May 6, 2015
@khanarpita @aaysharma @atulreellife @ssantoshshukla #WeLoveYouSalmanKhan @BeingSalmanKhan Real human being pic.twitter.com/HDff1ASYSR

— জুল্ফিকার আলি (শুভন) (@Zulfiker_Ali_) May 5, 2015
In Sha Allah we will Win The Case #WeLoveYouSalmanKhan @BeingSalmanKhan @khanarpita @aaysharma @ssantoshshukla pic.twitter.com/1d74Ex6tOs

— জুল্ফিকার আলি (শুভন) (@Zulfiker_Ali_) May 5, 2015
@BeingSalmanKhan #WeLoveYouSalmanKhan @khanarpita @aaysharma @atulreellife @ssantoshshukla @arbaazSkhan @seemakkhan pic.twitter.com/mT3M2lFkIR — জুল্ফিকার আলি (শুভন) (@Zulfiker_Ali_) May 5, 2015
I'm A Proud Salmaniac @BeingSalmanKhan #WeLoveYouSalmanKhan @khanarpita @aaysharma @atulreellife @ssantoshshukla pic.twitter.com/JyLmlyibFx

— জুল্ফিকার আলি (শুভন) (@Zulfiker_Ali_) May 5, 2015
Being Human KTM shared its support in the form of Tents, Rara Noodles and Masks For #NepalQuakeRelief #BeingHuman pic.twitter.com/60uXHAX33W — জুল্ফিকার আলি (শুভন) (@Zulfiker_Ali_) May 4, 2015
If someone is dying and money can save his life, I will provide that money "- @BeingSalmanKhan pic.twitter.com/8IsbWaO69Q

— Being Shovon ( শুভন) (@Being_Shovon_) April 26, 2015