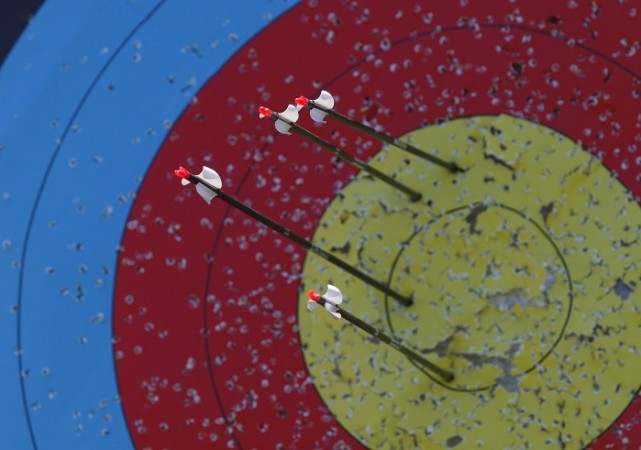 A two-year-old girl named Dolly Shivani Cherukuri from Vijaywada entered the record books in India on Tuesday after becoming the youngest Indian to score 200 points over five and seven-metre distances.
The two-year-old prodigy, who is the baby sister of the late Cherukuri Lenin (an international archer who tragically died in a road accident right after the 2010 Commonwealth Games in Delhi), shot 36 arrows from distances of 5m and 7m to score 388 points at an event on Tuesday in the presence of senior sports personalities and India Book of Records officials in Vijaywada, Andhra Pradesh.
After the event, India Book of Records representative Biswaroop Roy Chowdhury declared that Dolly has broken a national record and she was awarded a certificate.
"She has become the youngest in the country to achieve the feat," Chowdhury told The Times of India. "It's a record which will be difficult to break."
Dolly's father Cherukuri Satyanarayana, who runs the archery academy (where the record was broken), was delighted by his daughter's achievement, declaring that he and his family are very proud.
"My daughter achieved the feat we have been dreaming of today and she has been awarded with certificates and medal by the Indian Book of Records officials present here. I can't express in words how happy I and my family is," Satyanarayana told PTI.
Satyanarayana, whose other daughter also passed away in 2004, says that he will now be attempting to enter Dolly into Guinness Book of World Records.
"Now, we will attempt to make Dolly's name enter into the Guinness Book of World Records," he added. "We have made the application today with the help of Indian Book of Records officials. Our application will be first registered and proceed from there.
"We are hoping to hear from Guinness Book of World Records so that my daughter can give the trial soon."
Dolly, who was reportedly conceived through surrogacy following the death of her brother Lenin, was trained by her father in hopes that somebody would carry on the legacy of archery in his family following the demise of his daughter and son.
Satyanarayana says that he is certain that his daughter will one day represent India and make him proud.
"I am sure that my daughter will represent India one day and then I will be a proud father," he added.