At least three poeple were killed and a woman was gravely injured during a shooting inside a Walmart store in a Denver suburb of Thornton in Colorado on Wednesday.
Cops looking for suspected gunman
However, it is not yet known as to who carried out the shooting.
Thornton police have not released any information about the assailant and whether he or she has been taken into custody. The police which had earlier said that they had zeroed in on multiple suspects are now looking for a gunman wearing a black jacket, blue jeans and a maroon shirt.
The gunman had walked into the south entrance of the store and began shooting a handgun randomly.
Here's what had happened
According to Avila, they received a call from the store at about 6.30 pm Mountain Time (8.30 pm Eastern Time).
While a few were shot at, the others hid inside the hypermarket to escape being shot at.
A local news channel reported that a woman whose son was in Walmart had told her that he had heard about 30 gunshots and while he was inside.
By the time the first officers had arrived at the scene, the shooting had ceased.
Within an hour since the shooting began, the Thornton Police Department took to Twitter that the gunfire had ended at the store and said that police and fire crew had surrounded the mart.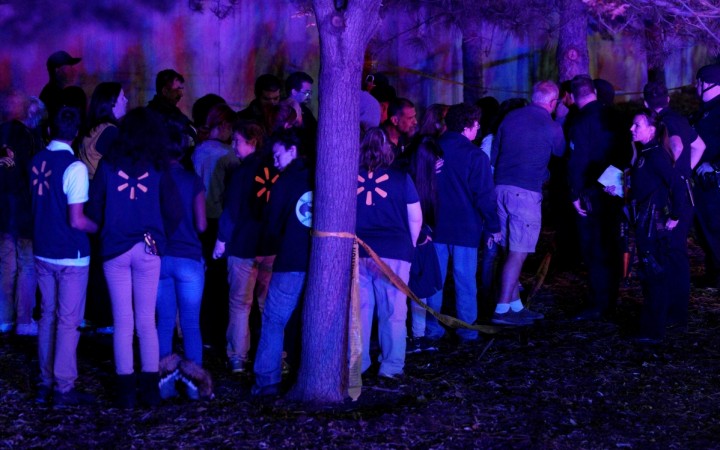 However, Avila said that the nature of the incident or status of the threat is still unclear, said a Reuters report.
"At this time this is NOT an active shooter. Active crime scene. We will update as info becomes available," the police department said in a tweet.
Current scenario
Reports claim that customers have been evacuated from the hypermarket.
While officials working with the Bureau of Alcohol, Tobacco, Firearms and Explosives are also present at the scene to help the police, the cops are questioning eyewitnesses to catch the assailant.
UPDATE: Detectives currently reviewing security footage & witnesses being interviewed for assistance with suspect(s) desc/info. pic.twitter.com/rObFfbxeIf

— Thornton Police Dept (@ThorntonPolice) November 2, 2017
Police have also asked the people to stay away from the area.