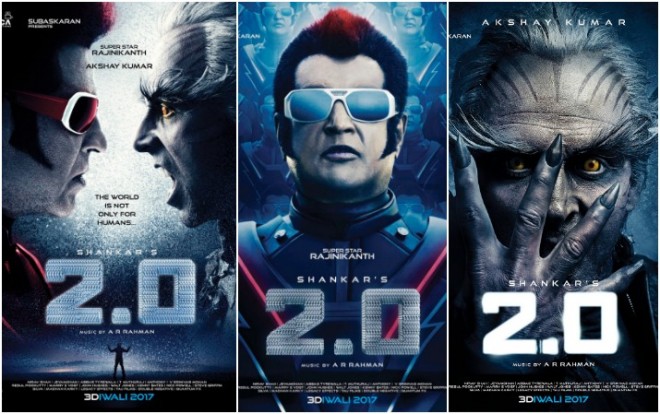 Rajinikanth and Akshay Kumar starrer 2.0 (Enthiran 2) received huge attention after the film's first look was released on Sunday. Apart from the looks of Rajni and Akshay, many other details about the movie were revealed at the launch event.
The movie 2.0 features Akshay as the evil man, while Rajnikanth's look resembles with the character of a robot, "Chitti" in the film Robot. 2.0, which happens to be a sequel of Robot.
Although Rajni plays the protagonist in the movie, it is Akshay who is being talked more for his unique appearance in the film. The actor is seen having a completely evil look with long nails, shaggy eyebrows, golden eye-balls and a weird hairstyle.
This is the first time the South Indian superstar and the Rustom actor have collaborated for a movie. The first look launch event was attended by Salman Khan and some other South Indian stars. Karan Johar had hosted the event.
It was a big event where the makers of 2.0 made some unknown revelations about the franchise and a number of interesting statements were also made. Here is a compilation of some of the interesting facts about 2.0 and comments made on the first look launch event.
1) Director Shankar hinted that there can be a third part of the franchise. "There can be a 3.0, 4.0, 5.0 because the film is a science fiction and we can explore a lot in this genre," he said, when asked if they are planning a third part.
2) Although Akshay plays an antagonist in 2.0, Rajinikanth said that the former is the hero of the movie and he is not.
3) Rajinikanth said that 2.0 has the kind of VFX that will match the Hollywood standards.
4) Salman Khan created a lot of frenzy at the event by making a surprise visit. When Rajni was asked if he will ever work with Salman, the former said, "If tomorrow Salman says yes, I am ready to work with him."
5) Akshay Kumar said that he believes 2.0 will create history.
6) Film editor Anthony said that 2.0 is 10 times challenging than Enthiran and he had to wear 3D glasses while editing.