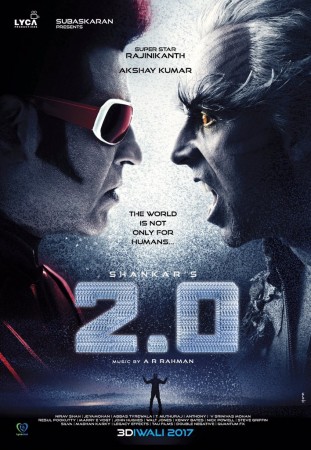 The first look of 2.0 (Enthiran 2), starring Rajinikanth and Akshay Kumar, has been revealed and it received huge attention on social media. The first-look posters of the movie presented Akshay as an evil man ready to face Rajni in a battle.
Apart from the excited fans, many celebrities have also been talking and praising the first look of the two stars in 2.0. With so many people talking about it, hashtag #2Point0FLLaunch soon became the top trending topic on Twitter.
There was a huge buzz around the film 2.0 ever since it was announced and the release of the first-look posters has doubled the frenzy. Like a majority of the fans on Twitter, celebrities have also been talking positively about the first look of the Rajinikanth-starrer.
Check some of the tweets made by popular celebs on 2.0 first-look posters:
SS Rajamouli: The Master coming with a double bonanza... Next Diwali will be even louder! Can't wait...#2point0.
Riteish Deshmukh: What an amazing first look...Sundi @akshaykumar #2Point0.
Madonna Sebastian: Just wow the look! Cant wait for this one #2Point0
Check some of the fans response to the first look of superstar Rajinikanth and Akshay in the movie: