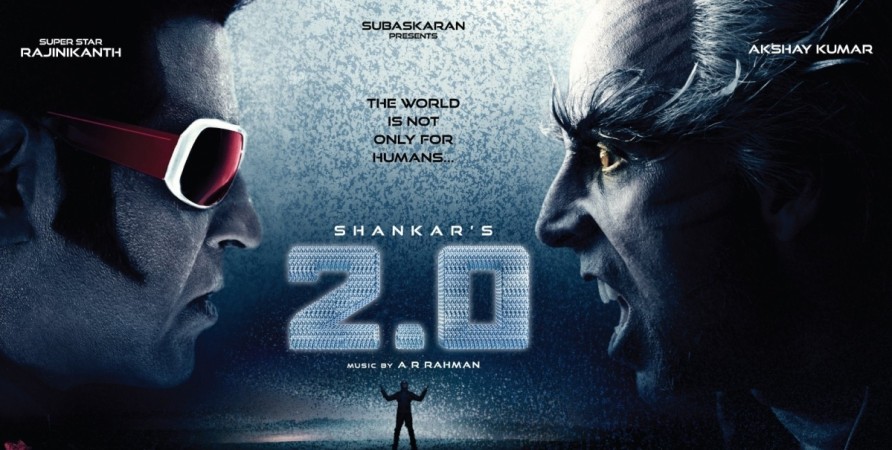 Kollywood is in a celebratory mood due to the release of Rajinikanth's magnum opus 2.0. Many celebrities watched the movie the first day first show and spoke about the film, while many wished all the success for the mega-budget project.
The movie was released in over 650 screens in Tamil Nadu on 29 November. The film has got fairly positive reviews with critics giving, on an average rating of 3 out of 5. On the first day, the Shankar-directorial had minted around Rs 20 crore in Tamil Nadu, Rs 19 crore in Andhra Pradesh, Rs 8 crore in Karnataka and around Rs 4-5 crore in Kerala.
However, millions of fans shared their excitement of watching the first day first show of 2.0 and celebrities too joined the party. Here, we bring you their comments and review about the flick:
A.R.Murugadoss: #2point0 has taken Indian cinema to the next level, Enjoyed the mass and Stylish performance of @rajinikanth sir, @akshaykumar acting was excellent and enjoyed the movie thoroughly @shankarshanmugh congratulations to the entire team @LycaProductions @arrahman
Atlee: #2Point0 @shankarshanmugh sir movie was awestruck,epic film Loved 3.0character too the core thanks u so much for entertaining us always & ur always an inspiration sir, @rajinikanth sir 2.0reloaded,3.0was ultimate loved it sir @akshaykumar sir❤️@arrahman sir veralevel Bgm
Khushbu Sundar: Hearing super n great reviews about #2.0 ..Cant wait watch the magic of SUPERSTAR @rajinikanth along with @akshaykumar being at their best..Many congratulations to @LycaProductions @shankarshanmugh for giving us yet another blockbuster..super excited
Dhanush: 2.O is ORIGINAL.. on par with any Hollywood film. MINDBLOWING. Thalaivaaa !! " THE ONLY ONE " mesmerised.@shankarshanmugh sir .. you are the pride of Tamil/Indian cinema. Congrats 2 d entire team. Don't make d mistake of watching this visual marvel anywhere apart from theatres.
Nani: Thalaivar arrived at BOXOFFICE .Me arrived at the shooting spot .Missing first day first show #2point0
Anirudh Ravichander: #2point0 OUT OF THE WORLD EXPERIENCE . ALL INDIAN BOX OFFICE RECORDS WILL BE REWRITTEN Bow down to Thalaivar @rajinikanth , The Master @shankarshanmugh , @akshaykumar @arrahman @LycaProductions @iamAmyJackson and the thousands of ppl involved !
Feel like watching on repeat
Sivakarthikeyan: Stalwarts of Indian cinema #Thalaivar @rajinikanth sir @shankarshanmugh sir @arrahman sir @akshaykumar sir coming together to give us world class experience... Waiting to watch #2Point0 #SuperExcited & Best wishes to @LycaProductions and team
Neetu Chandra: This is why I love #Tamil #Cimema #Tamil #Audience and their love ❤ @rajinikanth sir Your ardent fan #auroraCinema #Mumbai 5am today #2Point0 Movie Tamil ! Can't wait to watch #2Point0
Pa Ranjith: Getting positive reviews #2Point0 romba magizchi #superstar @rajinikanth sir @shankarshanmugh sir & fantastic team #superstar_fans vazthugal
SS Rajamouli: Excited as the wait for @shankarshanmugh sir's #2Point0 is over. One more day to see the many avatars of @rajinikanth sir & @akshaykumar sir. Best wishes to the entire team...
Simran: Congratulations on #2Point0 Marvellous creation it is!
Social message+Tremendous graphic.@rajinikanth sir this is Ultimate! Big salute to @shankarshanmugh sir!
@akshaykumar joins the league making it an entertaining visual treat.
Thoroughly enjoyed & watched it with my kids
Kajal Aggarwal: So excited about #2PointO cannot wait to witness this magnanimous onscreen magic! #2Point0FDFS #SuperstarRajinikanth @shankarshanmugh @akshaykumar @arrahman @resulp @LycaProductions
Shanthnu Buddy: #2point0 @shankarshanmugh sirs' creation is just "Jaw-Dropping"@rajinikanth sir steals d show all d way&tears d screen apart as #Version2pointO wid his expressions&one liners! @LycaProductions brings us Shankar sirs' creativity as a Visual Extravaganz
Pandiraj: #2PointO
The Real Giant has come
it's a proud to all of us
Best wishes to Superstar @rajinikanth sir @shankarshanmugh sir @arrahman sir @akshaykumar sir @LycaProductions & team
Karthik Subbaraj: #2Point0 verithanam overloaded...
Thalaivaaaaaa...U r Mind-blowing & u really set the screens on FIRE!!
@shankarshanmugh sir & superb team has made an EPIC & raises the benchmark of Indian films to TOP like Kings...Hats Off!! A film to Celebrate for all of us, is HERE..
Actor Karthi: Best wishes to all the giants of #2point0
It's biggest of the biggest!!!