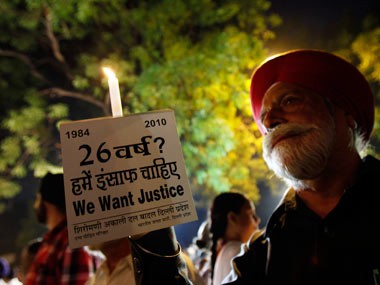 The Delhi High Court on Tuesday dismissed a plea by Congress leader Sajjan Kumar, one of the prime accused in the 1984 anti-Sikh riots case in which six people were killed in Sultanpuri area of Delhi.
Justice Suresh Kait refused to grant Kumar relief and said further hearing is required. He also turned down the complainant Sheela Kaur's cross appeal to invoke criminal conspiracy charges against Kumar and other accused in the case.
The 67-year-old politician was charged for promoting enmity and inciting violence against the Sikh community in Sultanpuri which led to the deaths. The attacks were in response to the assassination of then Prime Minister Indira Gandhi by her Sikh bodyguards at her residence on 31 October, 1984. Around 442 were convicted for the killing of 3,000 Sikhs in the riots.
Besides being accused for the murder of the six people in Sultanpuri, Kumar was also charged by the Karkardooma court for the death of five people in Delhi Cantonment area during the riots but was acquitted later.
Several commissions were set up to probe the case. Following a recommendation from the Justice GT Nanavati Commission, the Central Bureau of Investigation filed two charge sheets against Kumar in 2010.
The Congress leader, who was then MP at the time of the riots, had challenged a court order that framed charges against him related to the killings. The other co-accused in the case, Ved Prakash Pial and Brahmanand Gupta, had also contested the charges.
While five others were convicted, Kumar was acquitted in April after a trial court declared a testimony of a victim as unacceptable, leading to protests in the national capital.
Last month, his acquittal was challenged by members of the victims' families who claimed the trial court's verdict in the case to be erroneous.