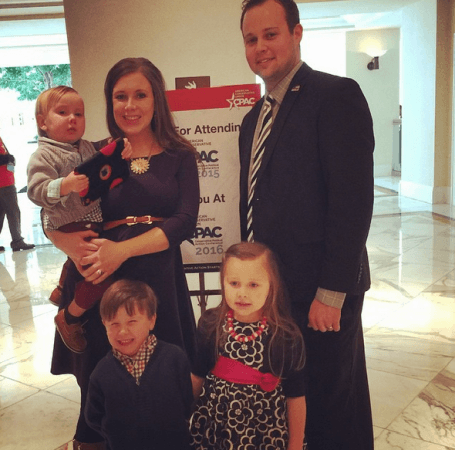 "19 Kids and Counting" star Josh Duggar, who was seeking help for porn addiction in a faith-based rehabilitation centre, and his wife Anna are reportedly consulting a couples therapist to save their marriage.
"Josh and Anna are working on their relationship and are having the help of a couples therapist," a source close to the couple told HollywoodLife. They have been meeting the therapist at their Arkansas home and the professional has been helping them figure out how to sort out the issues in their relationship.
Josh grabbed media headline in May 2015 when it came to light that he sexually molested his sisters as a teen. A few months later Josh once again attracted media attention for all the wrong reasons. One of the high-profile names associated with the Ashley Madison scandal was that of Josh's. Porn star Danica Dillon too came out in public to recount her tryst with Josh.
Josh apparently met up with the porn star and paid her to have sex with him when his wife Anna was pregnant with their fourth child.
Since Josh's return from the rehab facility, Anna has been having a tough time moving forward in her relationship with Josh, and this was what prompted the couple to get professional help. They also want to explore if their marriage can overcome the cheating scandal.
"Anna is still troubled by Josh's actions," the source added. "She needs lots of professional help to go along with all the praying she has been doing in order to keep her family together."
"They are doing lots of prayer together and are trying to make it work for the kids but their future still is uncertain," said the source.