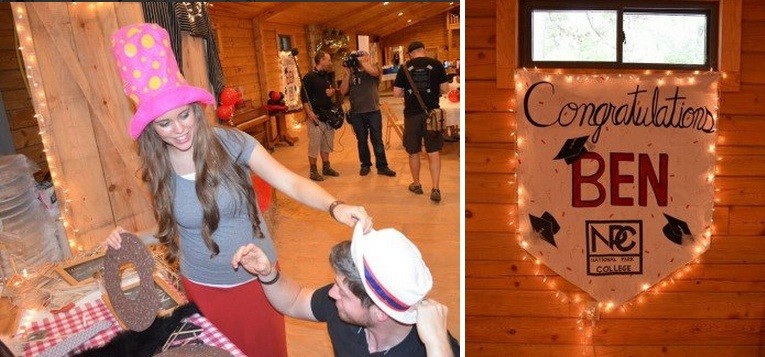 The "19 Kids and Counting" family is having a very exciting year so far, including babies, weddings, and courting. This weekend, the family very proudly celebrated Jessa Dugar's husband Ben Seewald's his graduation.
Ben, 19, finally graduated with majors in political science from National Park Community College on Saturday. And, proud wife Jessa posted a video on Instagram that showed Ben accepting his degree amidst loud cheers from fans and family. The ceremony was held at the Bank of the Ozarks Arena in Arkansas and after shaking hands with the faculty, the romantic husband blew a kiss to his wife, who was cheering him from the stands.
"...and he blew me a kiss from the stage!" Jessa shared on Instagram and Twitter. "@Ben_Seewald, I love you so much! So proud of you! #CollegeGraduation #NationalParkCollege," Jessa captioned the video on her Instagram wall.
She also posted a collage of pictures that had close up of Ben's face, while he accepted his degree, his proud parents, Michael and Guinn, at the stands, and his name in the commencement programme. Another picture shows the happy couple hugging each other and Ben making a kissing gesture to his wife.
Though the new graduate hasn't revealed his future plans, he said via Facebook that he wants to become a pastor or missionary and "preach the Gospel of Jesus Christ". And at the tender age of 19, the father-to-be is also an artist.
Ben turns 20 on the 19th of this month and he and his wife are expecting their first child on 1 November, which also happens to be their first wedding anniversary. The couple has been posting updates on the baby for their fans. They recently posted a picture that explains how the baby's organs and limbs are being formed one by one.
Watch the couple share more about their family on TLC's "19 Kids and Counting," which airs Tuesdays at 9 pm EDT.