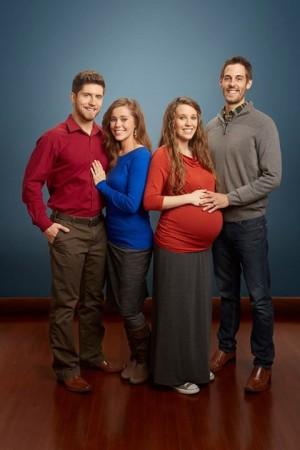 Jill Duggar's husband Derick Dillard recently quit his job as a tax accountant at Walmart, and speculations are rife that the couple is planning to leave the country.
The "19 Kids and Counting" stars grabbed headlines recently when it was revealed that Jill was one of the minor girls Josh Duggar molested when he was a teen. Although Jill and her sister Jessa said during a recent interview that they have forgiven their brother and that they are moving on in life, some believe Jill and Derick might be leaving the country to evade the scandal.
News of Derick's departure from Walmart came to light after Radar Online tried contacting him and got an auto reply that read, "I have recently accepted a position outside of Walmart and am no longer working for the company."
A spokesperson for the company revealed that Derick decided to leave the company on his own, and rubbished rumours he was fired. "Mr. Dillard did leave the company on his own, made that decision," Kory Lundberg told Radar Online.
Soon, his social networking account started flooding with messages from fans asking if he was going to Nepal for mission work. The country holds a special place in the hearts of Jill and Derick, as it was in Nepal their love blossomed.
"Why did you resign from Walmart? Are you going to Nepal for mission work?" one fan wrote on his Instagram page.
The fallout from Josh Duggar's molestation scandal continues, as several large companies have decided against lending their support. However, TLC is yet to reveal if the show has been cancelled.
The Duggar sisters have been struggling with "pain, sorrow and anger" ever since the scandal came out, and they feel sad the public's view of their family has been tainted, reported People.
"The just feel horrible that this is now public knowledge, that this is something that the whole world will know about them for the rest of their lives," a source said. "This was something that they felt they had closed the door on, and to have it forced open like this... they were just devastated and they continue to feel devastated."