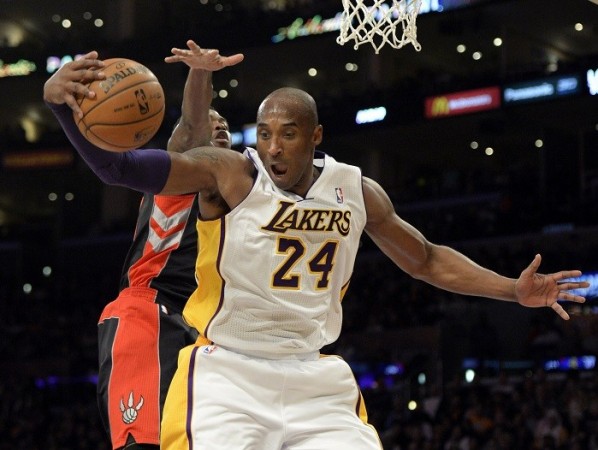 The high-flying dunks, fadeaway jumper, ankle-breaking crossover, buzzer beater among other Kobe Bryant's skills will not be witnessed from next season onwards as the hoopster has stated that the ongoing 2015-16 season will be his last as he is set to retire when the season culminates.
Kobe Bryant -- who has been one of the best players in the NBA to have ever graced the sport of basketball, after joining Los Angeles Lakers, has been one of the key players for the franchise and had primarily become a face of the team especially when they were dominating the NBA.
The Lakers were one of the most central sides in the NBA when Shaquille O'Neal and Bryant played for the Lakers as the duo were one of the best combinations in the NBA.
However, of late, Bryant has not been able to perform upto his normal standards and it is not wrong to say that the player is past his prime with injuries being a major concern, which was one of the key reasons for his retirement.
"But I can't love you obsessively for much longer," Bryant announced his retirement on the Players Tribune website. "This season is all I have left to give. My heart can take the pounding. My mind can handle the grind but my body knows it's time to say goodbye.
"And that's OK. I'm ready to let you go."
Though Bryant might not be able to impress of late, basketball fans are aware of his skills during his prime as he was capable of winning games single-handedly. With career points of more than 32,000, he has achieved almost everything that is there to be won in the NBA along with 17 NBA All-Star selections, NBA championships, two Olympic gold medals among others.
Lakers coach Bryan Scott, who understands Bryant well, was kind of 'shocked' when he was informed about his retirement plans.
"He kind of shocked me when he told me," Scott told reporters. "[I'm] just sad more than anything. Just sad more than anything. Somebody who I truly care about, have a lot of respect for. I think it's always hard when greatness like Kobe decides to hang it up."
Bryant, who is set to hang his boots at the end of the season, will still give his all for the Lakers till the last second of this season as he has done in his career. Bryant is a player with strong will and determination as he hates to give up easily on the court. He fights till the final buzzer. It is such qualities in the player, which makes him one of the most respected players on the planet.
"I think he still loves this game," Scott said. "He still has a passion for it. He's still a competitive young man."
A day had to come when Bryant had to retire, but he will leave a legacy behind when the season comes to an end. The Lakers man has been one of the most loyal players in the NBA as Bryant, who started his career with the Lakers, will play his last for the same team as well. With such record, he belongs to the elusive list of players to have remained with a single team in the NBA throughout their career.
John Stockton (Utah Jazz), Tim Duncan (San Antonio Spurs), Reggie Miller (Indiana Pacers) are some of the biggest names in the list to have played 19, 19 and 18 years with the same franchise respectively.