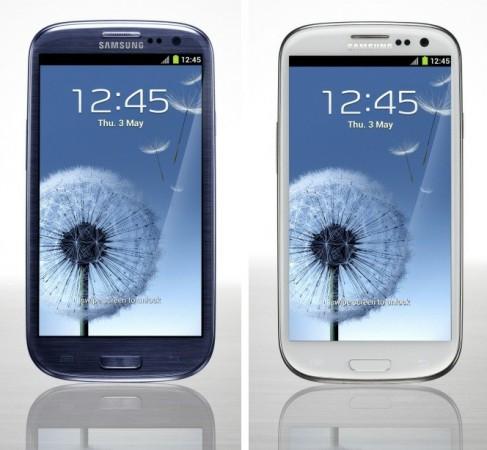 Samsung Galaxy S3, which was unveiled in London on May 3, has overshadowed many smartphones in the market. The new phone looks like the true successor to the already prominent Samsung Galaxy S2.
Ahead of Apple iPhone 5's release, Samsung is gaining a headstart to reap the early bird advantage. Samsung has left behind their conventional design and brought out a new device in the form of Galaxy S3 mostly inspired by nature.
In order to use the maximum space for display, Samsung with slim bezel, one physical button and minimalistic design has brought out a phone that is suited for humans and not for aliens. The new smartphone has varied interesting features embedded in it.
Specifications of the phone read as 4.8-inch HD super AMOLED display with a resolution of 1280 x 720 and 309ppi pixel density, 8.6 mm thickness, 133g weight, 1.4GHz quad-core Exynos processor with 1GB RAM, Ice Cream Sandwich 4.0, Samsung Touchwiz UI 4.0, 16/32/64 GB storage options, expandable memory up to 64 GB (giving a maximum of 128GB memory), 2,100 mAh removable larger battery, 8 megapixel camera to capture 1080p video, voice recognition feature known as S-Voice, eye tracking feature, smart stay sensor to keep track on your eyes, direct call to automatically call a person, smart alert for missed calls and messages.
Samsung has gone way ahead in bringing a phone with features that clearly seem superior to Apple iPhone 4S in many ways. Here is a look at the 14 features of Samsung Galaxy S3 which Apple iPhone 4S lacks.
Free Navigation Software: Galaxy S3 users have the benefit of getting a phone that comes with turn-by-turn navigation right out of the box. Also Google Maps has Google's massive database of highways, side-streets, and surface roads to lean on to help you find the best possible route. However, Apple iPhone 4S depends on third party apps.
Standard USB cable charging: Samsung's phone can be charged with a standard USB cable through computer or with USB power supplies whereas iPhone 4S doesn't enjoy similar feature.
Wireless Charging: Galaxy S3's battery can be charged without the need of a cable. There is no such feature in Apple iPhone 4S.
NFC: There is Near-field Communication support in Galaxy S3 which allows wireless transactions like payments which is not found in iPhone 4S.
HDMI: With HDMI support, videos and movies can be watched on a TV in Galaxy S3 while iPhone 4S doesn't support HDMI.
MicorSD slot: The biggest advantage of having microSD slot is in terms of expansion of internal storage which Galaxy S3 supports. Apple iPhone 4S has fixed storage.
Faster downloads: Samsung Galaxy S3 has 46 percent faster download speed at 21MB per second compared to Apple iPhone 4S downloads at 14.4 MB per second.
More Battery Power: Galaxy S3's 2,100mAh surpasses Apple iPhone 4S's 1,418mAh which is 49% more battery power.
Twice RAM Power: Samsung's new flagship phone has 1 GB RAM compared to Apple's latest phone which has 0.5 GB RAM.
Smaller Semiconductor and Newer CPU: Galaxy S3 has a measurably smaller semiconductor of 40nm which is 11 percent less compared to iPhone 4S's 45nm semiconductor. Moreover, Galaxy S3 has a newer processor.
Lesser Weight: The new Samsung (133.0g) phone is 7g lighter than iPhone 4S (140.0g).
Thinner: Apple iPhone 4S has 9.3mm thickness while Galaxy S3 has 8.6mm thinness.
Bigger screen: Galaxy S3 has a 4.8-inch Super AMOLED screen compared to 3.5-inch screen of iPhone 4S.
Removable Battery: The battery is removable in Galaxy S3 and can be replaced. But iPhone 4S bettery is not removable.