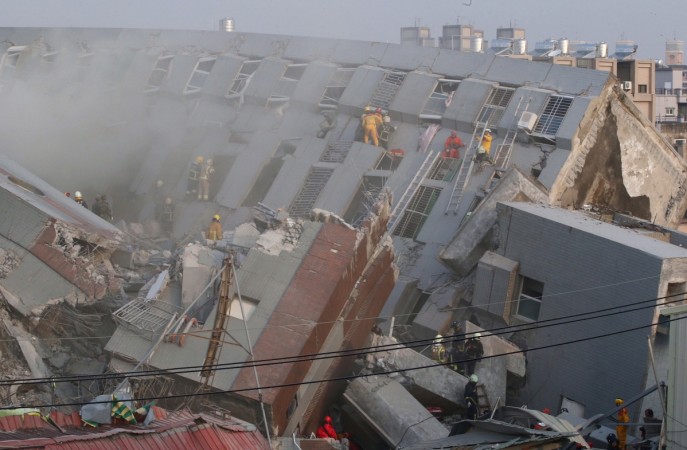 At least 13 people have died in Tainan city after a 6.4 magnitude earthquake hit Taiwan in the wee hours on Saturday. Taiwan's disaster response centre have pegged the number of injured at 378.
Among the dead is a baby and a young girl. The number of casualties is expected to increase, South China Morning Post reported.
As many as 30 people are still missing, reported BBC. Approximately, 200 people were rescued from the collapsed buildings, while 60 people have been hospitalised.
Infrastructure also took a major hit in the southern city of Taiwan due to the earthquake. At least 20 buildings have reportedly completely or partially collapse.
The quake was as powerful as two atomic bombs, SCMP quoted Kuo Chi-wen, director of the earthquake centre, as saying.
Rescue workers have been working tirelessly to pull out everybody trapped under the buildings.
President Ma Ying-jeou, who went around the city to gauge the damage, said that shelters will be built for those who lost their homes.
Some buildings housing as many as 256 people have toppled over. However, more people are expected to be present as the quake came right before the Lunar New Year when families gather together.
"Rescue workers broke through (the building) layer by layer. And they asked us to climb out but I said my children are too small to climb. So they dug a bigger hole. Then one rescue worker tried his best to climb in and take the children out. Then I slowly climbed out myself," a 35-year-old woman said describing her ordeal, BBC reports.