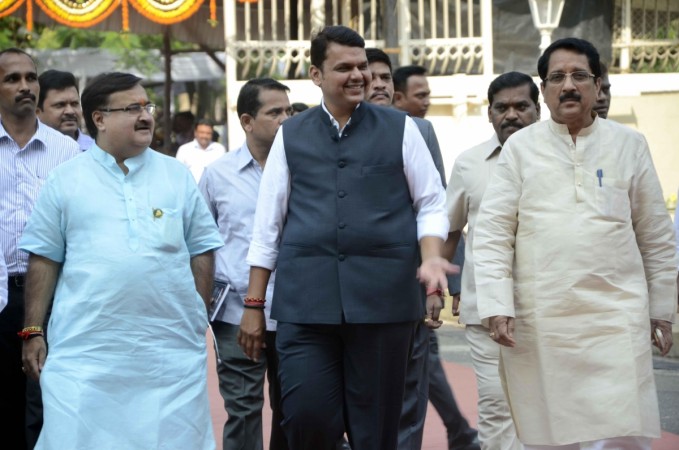 Ending days of speculation of a patch-up, 12 MLAs of Shiv Sena are all set to join the BJP Government in Maharashtra on Friday.
The announcement was made by Chief Minister Devendra Fadnavis on Thursday.
At the swearing-in ceremony, 20 new ministers will take oath in Vidhan Bhawan.
Of the 20 ministers, 12 will be from the Shiv Sena, of which five will be sworn-in as Cabinet ministers and the rest will join as ministers of state, according to NDTV report.
Fadnavis did not give the names of the Sena members who will be joining BJP government in the state.
However, a few names, who could be inducted as ministers, had cropped up earlier.
There were speculations that senior legislators Girish Bapat, Girish Mahajan, Babanrao Lonikar, Sambhaji Patil Nilangekar, Sanjay Kute, Chainsukh Sancheti, Seema Hire, Devyani Farande, Jaykumar Rawal, Govardhan Sharma, Madan Yerawar and Ram Shinde are among those who are likely to join the Government.
Also, Mangal Prabhat Lodha, Raj Purohit and Ashish Shelar are said to be in the race for getting ministerial berths, according to The Times of India report.
Apart from the state government, the Sena is expecting another position in the Union Cabinet apart from a Minister of State berth.
At present, the Sena has one Cabinet minister at the Centre - Anant Geete, Minister of Heavy Industries and Public Enterprises.
"We have demanded from BJP an additional Cabinet rank for our party and also a Minister of State in (Central) government. However, they (BJP) are yet to reply to our proposal," Sena MP Gajanan Kirtikar told reporters on Wednesday.
Both parties had broken their 25-year-old alliance in September this year over seat-sharing arrangements before the state elections.
The BJP won the assembly polls and became the single largest party but without absolute majority, while the Shiv Sena emerged second.