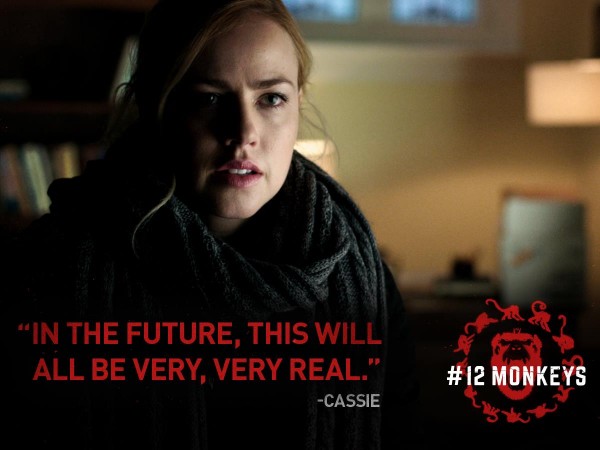 Many promising new shows were introduced to the spring line-up in 2015 and most of them have managed to woo audiences and get renewed. "12 Monkeys", "Better Call Saul", "Scorpion", "NCIS: New Orleans", "Madam Secretary", "Empire" and "Fresh Off the Boat" are among the shows that will see the light of the second season.
Syfy's "12 Monkeys" was a wild card and quickly put down by most viewers and critics, seeing that it was the remake of the 1995 cult-classic film by the same name starring Bruce Willis. However, the show which explored the concept of time-travelling and rewriting the course of history to prevent the plague that kills most of humanity, earned a name for itself as a creative and brilliant show.
And while season 2 of "12 Monkeys" will not be on air until next year, watch out for season 1 finale "Arms of Mine" on Friday, 10 April, wherein Railly and Cole make a final attempt to confront their closest enemies.
Bob Odenkirk- starrer "Better Call Soul" also has been picked up by AMC for the second season. Like the first season, the second one will also have 13 episodes. However, it will have more details regarding the premise for "Breaking Bad", its parent show.
CBS has renewed all three hit freshman drama shows, "NCIS: New Orleans", "Madam Secretary" and "Scorpion" for the second season. The three of them make for the number one, two and three most-watched fresh shows respectively, on broadcast television this season.
ABC's comedy series starring Randall Park, who played Kim Jong- un in the controversial film "The Interview", has also been renewed for a second season. A hit among the Asian-American community who finally see a representative voice in the show, it will air the finale episode on season 1 titled "So Chineez" on 21 April.
Meanwhile, "Empire" and "Gotham", both of which premiered in FOX this season, have been renewed for a second season, meaning Cookie will be back for more action in 2016 with a boatload of supervillains and little batman.
However, the status of "Backstrom", the crime comedy-drama series starring the hilarious Rainn Wilson might be shown the exit door from FOX with the end of season 1. While the show has a brilliant fan following, it is not priority viewing, considering "Scandal" and "The Blacklist" in competing networks have more viewers than the freshman series. While the series has few more episodes to improve its ratings, a shuffling of schedules could also solve the problem of low viewership if there were to be season 2.