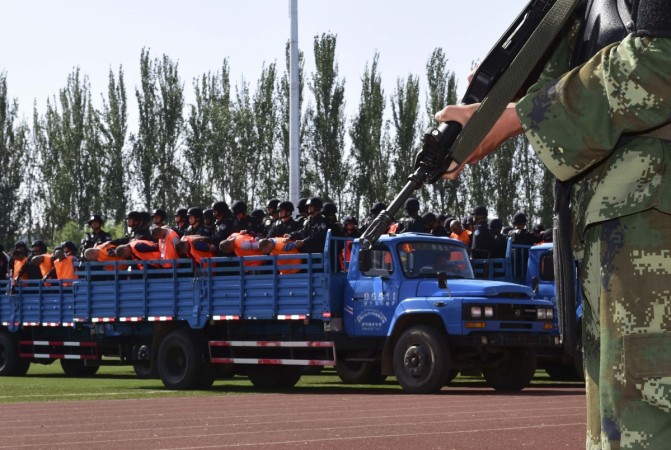 Chinese Police have shot dead 13 people described as 'thugs' as they tried to ram a vehicle into a government building in the restive northwest region of Xinjiang Saturday morning, according to local government reports and state-run Xinhua news agency.
"A group of thugs drove a vehicle to ram the main office building of the public security bureau of Yecheng County in Kashgar District and detonated explosives," the official Tianshan Net web portal reported. "Police took decisive action and shot dead 13 thugs."
This comes as the Xinjiang province has been gripped for months in a spate of deadly attacks, where Muslim Uighur separatists have been raging a war against the communist government and seeking autonomy from Beijing. The government has left no stones unturned in cracking down on the upsurge in violence and has clamped down on any signs of uprising – something that the Chinese government is long known for.
Beijing has been saying that overseas terrorist groups have spread extremist ideas within the province, while the Uighur fighters argue that Chinese repression backed by lack of freedom has triggered the growth of natural resistance within the minorities.
The news comes after 13 people accused of terrorist activities were executed last week by Chinese authorities.
The Uighurs mostly comprise of Turkic-speaking Muslim people who have been lately angered by massive inflows of Han Chinese, the country's major ethnic group, in the province. The Muslim minority group members mostly argue that economic development only benefits the Han. They are also angry about Beijing's strict policies towards religious practice, their language and culture.
Yecheng is located close to China's border with Pakistan, where fewer Han Chinese have settled. The attack on Saturday follows several other similar attacks on police stations in the same province in recent years.
Apart from the traditional targets, the Uighurs have started launching terror attack in public places such as train stations and markets within the province.
In May, 43 people were killed in a bomb blast in a crowded market in the regional capital of Urumqi.
Also in March, almost 30 people were killed after knife wielding assailants attacked people near a major railway station.