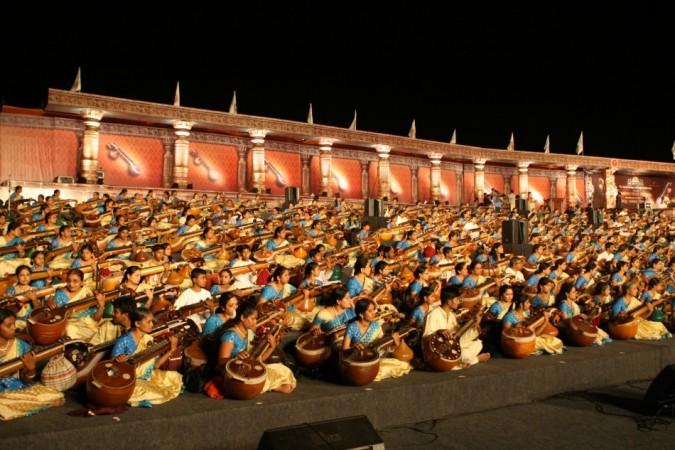 In a bid to gain entry into the Guinness Book of World Records, The Art of Living and Ranjini Kalakendra jointly hosted a mega veena performance event, 'Sahasra Veena Jhenkara', showcasing over 1,110 veena artistes on one platform for the very first time in Bangalore, Wednesday.
Speaking about the event, Suparna Ravishankar, Secretary, Ranjini Kalakendra said in a release, "The inspiration behind this idea was the Art of Living's Brahm Naad event in 2008 that brought 1094 sitarists on one platform for the first time in the world. It led me to realize that we need to create platforms not only to uplift practitioners of ancient arts but also enhance exposure of Indian classical music."
The event which was held in the presence of Sri Sri Ravi Shankar, Founder, Art of Living, aims to foster India's ancient heritage of classical music, uplift and showcase the skills of the younger generation of veena practitioners and epitomize the unifying power of music to spread the message of universal peace and harmony, said a release by the Art of Living.
Emphasizing on the healing and soothing properties of music, Sri Sri, said, "In happy times your love for music is spontaneous. In tough times music can soothe, heal and de-stress you. So, make music an integral part of your life."
"The veena is the most ancient instrument known to mankind. Its resonance is still un-paralleled, captivating and takes you to another dimension. Eat music, drink music and sleep music till you can hear your soul song of eternity," added the spiritual leader.
Karnataka Chief Minister D.V. Sadananda Gowda, MLA, Aravind Limbavalli, Karnataka Pradesh Congress Committee President R.V.Deshpande, Former Chief Justice of India, Venkatachalaiah, among others, were present at the event.