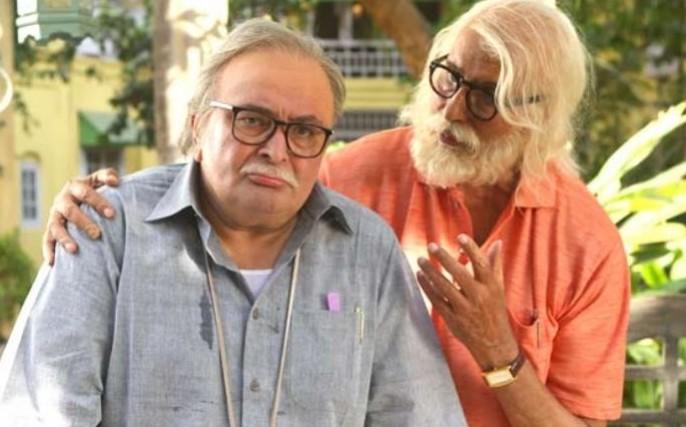 RATING: 2.5/5
MOVIE: 102 Not Out
CAST: Amitabh Bachchan, Rishi Kapoor, Jimit Trivedi
DIRECTOR: Umesh Shukla
GENRE: Comedy-drama
There have been several movies on father-son relationship, but 102 Not Out is a fresh take on the subject, coupled with some funny and highly emotional sequences. This is one unconventional Bollywood movie that may appear boring at certain points, but ends up leaving you touched.
STORYLINE
A full-of-life 102-year-old man Dattatraya Vakharia (Amitabh Bachchan) wants to set a world record of being the oldest man, which currently is held by a Chinese man. He is confident that he can achieve the feat, but believes that there is just one hindrance in his way – his boring and dull 75-year-old son Babulal Vakharia.
Dattatraya feels that in order to live longer, one has to be in company of cheerful and fun-filled people, and his son Babu is just opposite that. Hence, he decides to send Babu to an old-age home, which obviously shocks the poor son.
Dattatraya gives a chance to his son, saying that he can stay at his home, only if he completes some challenges. A rather stupid companion of the two elderly characters, played by Jimit Trivedi, has an important role in this game.
Nonetheless, the father has a bigger motive behind all these for the betterment of his son. The otherwise light plot of 102 Not Out eventually turns into an emotional one as some heart-breaking incidents from the past get narrated.
PERFORMANCES
102 Not Out brought back two legendary actors together – Amitabh and Rishi – after 27 years. Both of them are masters in the craft, and there is none who can doubt their acting potential. Rishi plays the character of a 75-year-old man, who has accepted his old-age, to great precision. His expressions of irritation and frustration look genuine.
Amitabh, on the other side, has also done a good job, showing the childlike side of a 102-year-old man, who is "strictly opposed to dying, at least before dying". His character takes the central point in the film, but Rishi also manages to grab equal attention.
Jimit Trivedi's character is a supporting one, but he adds good charm to the film. However, the plot of 102 Not Out has very limited scope to challenge the acting prowess of the two veteran actors.
POSITIVES
The director gave a very natural and sweet treatment to the film. Although the father-son relationship shown in the film is highly unconventional, the love and bonding between them looks real.
The movie highlights the concept of "living life to the fullest" very beautifully. Also, it's a tight slap to all those sons, who abandon their parents, and forget all that they did for them. Both the angles are highlighted in a rather unusual manner. The direction is good, with some fine usage of simple scenes that give a deeper meaning. The film has a decent mix of light humor and heart-touching emotions.
NEGATIVES
The main drawback of the film is the slow narrative. 102 Not Out at various points appear sluggish, which may make you lose interest. Amitabh's make-up could have been little better and more realistic.
VERDICT
102 Not Out is completely a family film that has a good dose of light humor and heart-meting emotions. You will value your life and parents more after watching this movie. If you can ignore the slow narrative, it's a decent entertainer that will set you on an emotional ride.