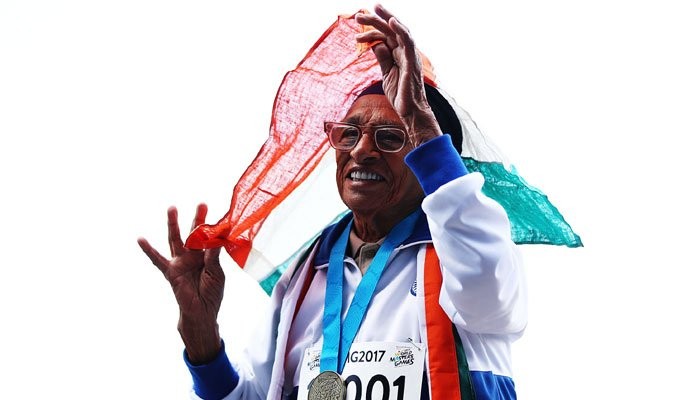 While ageing brings with it stagnancy, this 101-year-old Indian woman seems to defy it all. Man Kaur, the iconic centanary, has again defeated age after she won the 100 metres sprint at the World Masters Games in Auckland, New Zealand, on Monday (April 24). She has bagged the 17th gold medal in her late-blooming career.
World Athletics schedule 2017: List of all events and dates for Diamond League, World Championships and others
While she took 81 seconds to complete a 100m event of the American Masters Games Vancouver last year, she took even lesser time this year. Kaur took one minute 14 seconds to complete the race, which is 74 seconds. Though she took 64.2 seconds more than Usian Bolt's world record in 2009, her feat is no less than bolt at her age.
Though her dash was more of a gentle gait, the small crowd that had gathered cheered her on as she beamed at them. But Mann Kaur was guaranteed victory as the only participant in the 100-years-and-over category at the New Zealand event, which saw 25,000 competitors in the fray.
The New Zealand media has dubbed her as the "miracle from Chandigarh" whose priority is participation and not racing the clock.
"I enjoyed it and am very, very happy," she told reporters via a Punjabi interpreter.
"I'm going to run again, I'm not going to give up. I will participate, there's no full stop," she added.
Kaur became an athlete at the age of 93. It in indeed surprising that until then she was never really into sports. It was only her son Gurdev Singh's insistence that she joined him in the international masters games circuit. The mother and son pair has taken part in many athletics meet around the world.
Meanwhile, Kaur also has plans of taking part in the 200m sprint, two kilogram-shot put and 400 gram javelin in Auckland.
World Masters Games 2017 Chief Executive Jennah Wootten said the Auckland organisers were delighted to host such an inspiration.
"Man Kaur truly personifies the 'sport for all' philosophy which World Masters Games is all about and we are thrilled to have her here," she told Agence France-Presse (AFP).
"I have no doubt that she and many of the other 24,905 athletes competing in these games are inspiring others to lead more active lifestyles and take up a sport," Wootten said.