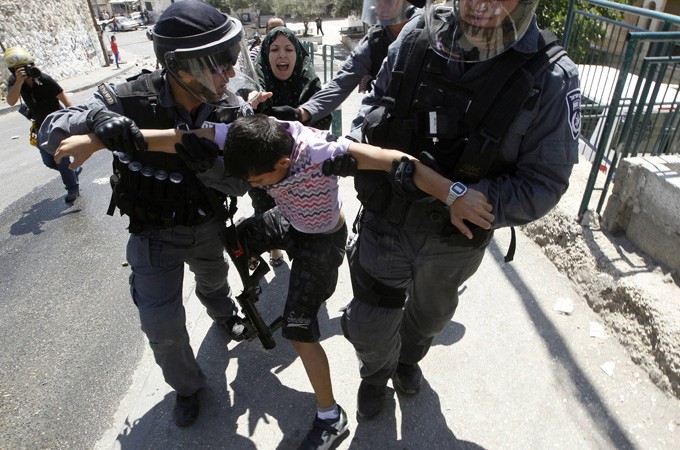 Israel has detained about 10,000 Palestinian children since 2000 and they were subjected to humiliation, torture and solitary confinement, according to Palestinian Liberation Organisation (PLO).
A senior PLO official responsible for securing the release of children and other detained youths told Press TV that some 10,000 children from the West Bank and East al-Quds (Jerusalem) have been detained by Israeli armed forces over the years.
Issa Qaraqe, head of the PLO's committee on detainees, was speaking on the occasion of the 25th anniversary of the adoption of the Convention on the Rights of the Child by the UN General Assembly.
He stated that the children's rights are violated "regularly," and they are often subjected to humiliation and torture by the Israeli army.
"Israel does not provide any immunity for children and regularly violates international agreements on children's rights by humiliating and torturing them and denying them fair trials," he said.
Qaraqe noted that 95% of children, many of them as young as seven or eight, have been subjected to torture. Currently, some 300 children are said to languish at detention camps in Israel.
Earlier in May, a report released by an international non-governmental organisation, Defense for Children International - Palestine (DCI-P), had found that most children detained by Israeli forces were taken in for stone throwing, a charge that can lead to a sentence of up to 20 years in prison.
The monitoring agency that focuses on the treatment of children in the areas of conflict, found that every year about 500 to 700 minors are taken prisoners by Israel.
It also reported that the Israeli military has used solitary confinement as a form of interrogation and intimidation in nearly 22% of recorded cases. The children put in solitary confinement have been kept locked in for 10 days on an average, with the longest period being 29 days, the report stated.