You may have thousands of Facebook friends who "like" all your selfies and posts, but how many do you actually know beyond their full names? For instance, you might be Facebook friends with your sister's best friend's sister, but have you ever hung out with her?
Matt Kuleza, a student from Melbourne has started a blog project to resolve this very issue. "I plan to have a one-on-one coffee with every single one of my 1000+ Facebook 'friends' over the space of the next three years, or as long as it takes to complete," posted a determined Kuleza on his tumblr page, where he chronicles the 1000+ coffees project.
In the first post of 1000+ coffees, which was posted on 3 September, Kuleza met Kris Schroeder, his Facebook friend of six years and "caught up on life, world politics and recent travel, discussing his experiences in Kenya and mine in North Korea."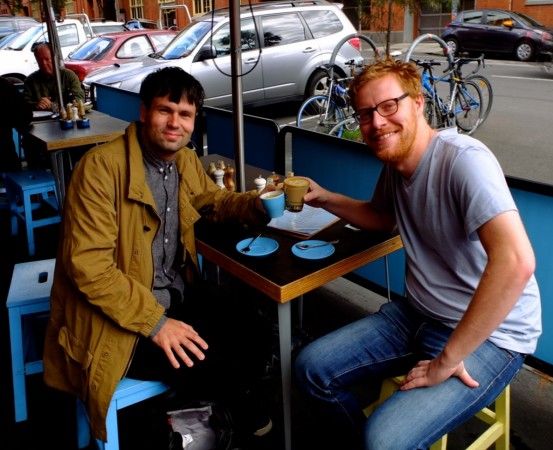 Since then he has been on 27 coffee dates, the last of which was posted on 4 October. All of the 28-year-old's Facebook friends (at present 1088 of them) will be invited to catch up with him, one at a time, over a hot cup or two of coffee.
The motivation behind 1000+ coffees is Kuleza's determination to marry the virtual world with the real one. It is an "exercise in remembering to socialise with and get to know people outside of the 'book'," he says.
Over the month, Kuleza caught up with his ex-girlfriend's radio co-host Jess McGuire; his best friend and song-writing partner Kieran O'Shea; close social media friend Kat Bundy; former girlfriend Clementine Bastow; Juliana Park, a helpful friend from his University; hypothetical love child of Jim Carrey and Hannibal Lecter, Robert Coleman; Simona Castricum, who recently came out as a transgender; ex-housemate and quiet genius Paul Edwards; Cal Mero and Verity Peterson, both friends from primary school he hadn't met in 13 years and his "bro" Baly Knox among others.
Matt had his 27th cup of coffee most recently with Clinton James Sigmund, his partner Ashley Hutchinson and their new baby Freddie-Lou, on Saturday, 4 October. He has a long way to go before he can successfully complete his blog project.