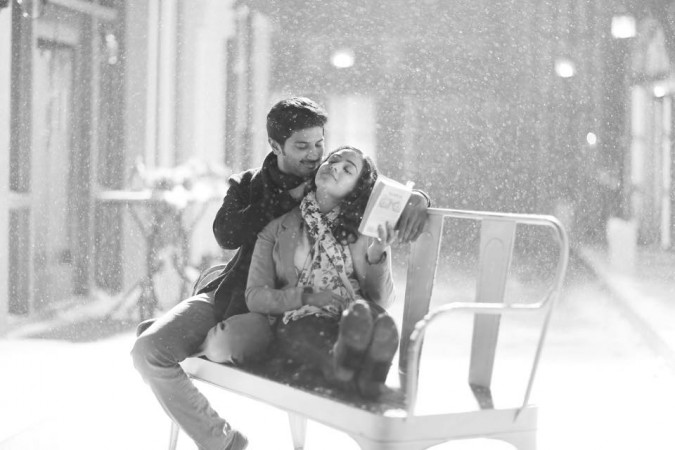 Like someone said "It's better late than never", the trailer of the Dulquer Salmaan-Nithya Menen starrer, "100 Days of Love", is here. The first thing that strikes you most when you watch the short format of the movie is that it is going to be a fun ride.
The trailer is embellished with dreamy dialogues of a young man caught in the imaginations of love, some sweet and sour moments along with references to some of the classic movies. The video begins with the character of Dulquer Salmaan, who tells his friend (Shekar Menon) that he met his dream girl who has a "magical" smile.
The friend suggests that he met her by pure destiny or luck to which the hero refers the moment as explained in the iconic romantic flick, "Casablanca".
The rest of the trailer talks about his plans to chase his lady love played by Nithya Menen. Soon, to his dismay, he realises that she has completely different perspective towards love and life. She never believed in love and says she will believe in love only when she experiences it.
It is obvious that debutant director Jenuse Muhammed is inspired by many of the world movies he has watched as the last scene of the trailer ends with Dulquer in the get-up of Heath Ledger's most memorable character of Joker from the movie, "The Dark Knight".
One thing the director has assured is that the movie will be a visual treat as cinematographer Pratheesh Varma has cranked some aesthetically appealing frames. The music by Govind Memon also sounds impressive.
Another noticeable aspect of the trailer is the colouring of the visuals, which might be something new to Malayalam film lovers. Each frame looks decisively beautiful with their colour pallets with their translucent appeal.
The trailer also introduces the characters of Rahul Madhav, Aju Varghese, VK Prakash, Vineeth and Praveena.
"100 Days of Love" is scheduled to hit the theatres on 20 March.