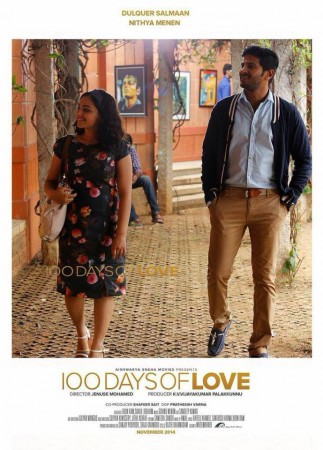 Dulquer Salmaan and Nithya Menen starrer "100 Days of Love" has got positive reviews from the Malayalam audience. Even though the film lacks freshness, the film manages to keep cine-goers entertained.
The movie marks the directorial debut of Jenuse Mohamed, the son of filmmaker Kamal. It is interesting to note that the lead pair (Dulquer Salmaan and Nithya Menen) will also be seen together in forthcoming Mani Ratnam's biggie "Ok Kanmani".
Hence, "100 Days of Love" will be an important movie as it will have some impact on their next movie "Ok Kanmani".
The story of "100 Days of Love" is set in Bengaluru where the hero Dulquer Salmaan will be seen in the role of a journalist in a national daily. The heroine meets the boy when she comes to the Karnataka's capital city to spend time with her parents.
Reviews:
People are praising the romantic portion in "100 Days of Love". The role of Balan K Nair played by Dulquer has been appreciated by his fans. Nithya Menen with her charming smile and beautiful expressions steal the heart of the audience. However, the audience are not impressed by the content as they feel that it is just another love story. Below, we bring you the audience response for the movie:
Cable Sankar Wrote
Starts Lethargically, shifted to second gear, and went on steadily #100DaysOfLove
Vijay Yesudas Posted
Watchd #100DaysOfLove Cute, simple romantic film-with lots of laughter & love-my darlin buddy as alwys rocked @dulQuer -Well dne Janoos&Team
Sanju Tweeted
Watched #100DaysOfLove ! A simple plot executed with comedy & Romance ! Nice comedies & a stylish pefo frm @dulQuer .Gud one time watch !
Kalpana Wrote
#100DaysOfLove worth a watch for @dulQuer performance n for the rom track capturing some cool breeze!!!
Sadiq vengara Tweeted
@dulQuer Expected a super one.it was rockn supperr.Brilliant direction&frames!. rrrromanticc!! @dulQuer -the Original:):) #100DAYSOFLOVE
Feroz Ismail Posted
#100DaysOfLove whn cliches rpeat n style v wil Luv it..lovd @djsekhar (umchi) nd @dulQuer (bkn combo..go wtch nd feel d romance arnd u <3
Sethumadhavan Napan Wrote
#100DaysOfLove-a time-pass entertainer which has its moments & a Dulquer Salmaan show all the way.
#100DaysOfLove-for starters this isn't a copy of 500 Days of Summer (Thank God for that :))
If nothing else #100DaysOfLove serves as a good promotional tool for #OKKanmani that's coming up soon :)
Nishanth C Mohan Tweeted
#100DaysOfLove A good movie, story is fresh, so is the direction. Watch.
Michael Scofiled Posted
#100DaysOfLove A Decent Love Story.. Narration was bit slow.. Lead pair Onscreen chemistry Awesome !! @dulQuer
Sumith Sunny Wrote
@dulQuer #100DaysOfLove really heart touching love story, 2maro gonna see it once more
AKHIL Posted
#100DaysOfLove 3/5 Not a good entertainer and not boring one. Performance and Cinematography kidilan. And the flow was good. Comedies
Anand.G.K. Wrote
#100DaysOfLove Simple, neat, original and TOTALLY UNPREDICTABLE :)
Nikhil prakash Posted
Saw @dulQuer 's #100DaysOfLove today !!! Mixed emotions after watching the film.It had that some moments but not fully.
E4entertainment Posted
#100DaysofLove 3.5/5.Feel good movie.@dulQuer's character demands the screen presence from him,the chemistry with #Nithya is class.
Kalander SaBitH Posted
Watched #100DaysOfLove Not a great one.its a below average movie.@dulQuer Costume was damn good.that's all.
iAashy Tweeted
Jenuse Muhammed shows glimpses of becoming a great potential for Mollywood in the future with #100DaysOfLove
Cine Cafe Now Tweets
#100DaysOfLove review gets 3.8 / 5.0. Superb Movie.
Mr. Optimist Wrote
#100DaysOfLove - A good Romcom. Loved it. And loved the new combo "Balan k nayar - Sheela".
Venugopal Posted
#100DaysOfLove & #YouTooBrutus gets watchable WOM. While for the former its more than enough but for the latter it will be difficult at B.O
Movie Reviews Wrote
#100DaysOfLove Update First 1 hour Over Lags Sometimes But its Entertaining Mix of Romance&Comedy Different Making Beautiful Cinematography
#100DaysOfLove Movie Started at 9.15am PVR Kochi..Housefull....
#100DaysofLove Perfect Casting # Dulquer Super and #Nithyamenon Excellent Another +ve Bgm and Cinematography
#100DaysofLove update Almost 2hr over Very Interesting Plot...Still now Good 2nd Half Starting lags But Now on Track Romance Returns
Martin N Joseph Writes
#100DaysOfLove - First half is interesting with lot of fun filled moments. Waiting for the second half. :-)
#100DaysOfLove - Story wise its nothing. But, it'll surely entertain you and a one time watch. Some fun filled good moments here and there.
Althaf Ashraf Wrote
Watched #100DaysOfLove awesome Film ❤ Great Performance @dulQuer ❤ U bro....
Sarath Chandran Posted
#100DaysofLove Beautiful !!! @dulquer — feeling awesome
Dulquer Live Wrote
#100DaysOfLove its Over Good One Good Romantic Entertainer Beautiful Making and Xclnt Perfo Makes It Must Watch!
Prashant Soni Tweets
#100DaysOfLove getting good response everywhere , congratulations to #NithyaMenon , her cute smile does all magic n attracting her fans too
Amal Dileep Posted
@dulQuer #100DaysOfLove is a superb movie... I love that BGM...#BalanKNair :):) haha...
OkK@nm@ni - Th@R@ Wrote
After #MMIR, One more Hit to #NithyaMenen #100DaysOfLove Yuppieee..A good story selection than a big hero makes her successful over n over :)
Anaz Samad Tweeted
Of all the gin joints in all the towns in all the world, she walks into mine.#casablanca #100DaysOfLove