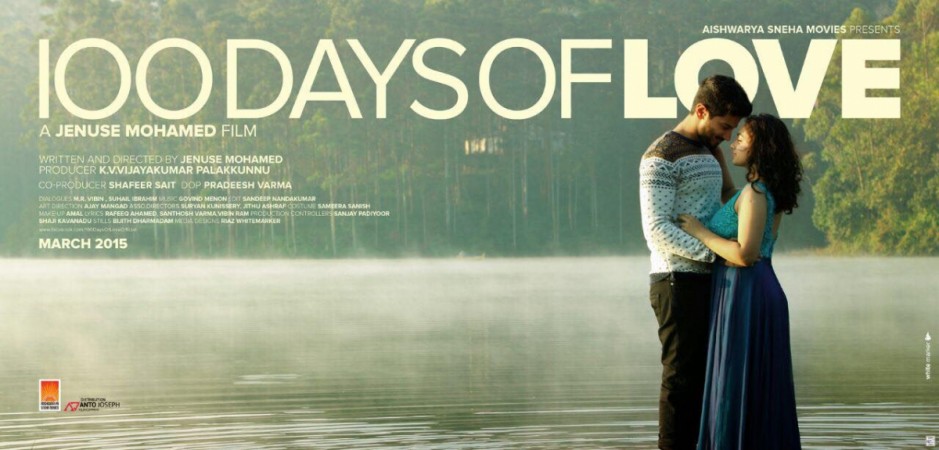 "100 Days of Love", starring Dulquer Salmaan and Nithya Menen, is all set to have its release on 27 March. The movie, which is touted as a romantic entertainer is directed by debutant Jenuse Mohamed and the movie is expected to create a new excitement in Malayalam industry that is currently going through a dull phase.
Here we are pointing out five reasons why the upcoming movie, "100 Days of Love" is going to be a blockbuster hit.
1. Dulquer Salmaan-Nithya Menen Combination
Everybody knows this is one of the most-sought-after combination in Malayalam cinema currently. Audience had got a taste of their chemistry with super-hit flick "Usthad Hotel", which they expect will be repeated in the new movie too.
For those who are involved in the business, they think the popularity of both Dulquer and Nithya would bring in a good number of fans to theatres to watch the movie.
2. Cinematography by Pradeesh Varma
If there is one thing that fans are eagerly waiting to see besides the lead pair, it would be the cinematography by Pratheesh Varma. Audience got a glimpse of the cinematographer's effort with songs, teaser and trailer, which have left them in awe as each frame looked aesthetically pleasant and beautiful.
3. Music by Govind Menon
No one can doubt the music abilities of Thaikkudam Bridge fame, Govind Menon and the songs of the movie that were released, is already at the top of chart list. This has given hope to those who are involved in the making of the movie as they know songs can encourage spectators to hit screens
4. Element of freshness behind the scenes
Romantic comedy is a genre that is tested and tasted well by the audience. But, the USP of the upcoming movie is that there is a whole new bunch of freshers who are involved in the making of the movie.
The director of the movie, Jenuse Mohamed, is making his debut and equally new are the dialogue writers of the movie, R Vibin and Suhail Rahman. Their fresh thoughts and ideas would definitely bring in something new for viewers to enjoy.
5. Welcoming box office
The biggest benefit for the movie is the welcoming box office. Malayalam industry as well as film lovers are eagerly waiting for a movie that can trigger the box office. "100 Days of Love" therefore has a good market for them as there were no big movies released in recent time which can give it a big fight. When it comes to competition, most of the industry insiders believe, that the movie is placed correctly for its release.