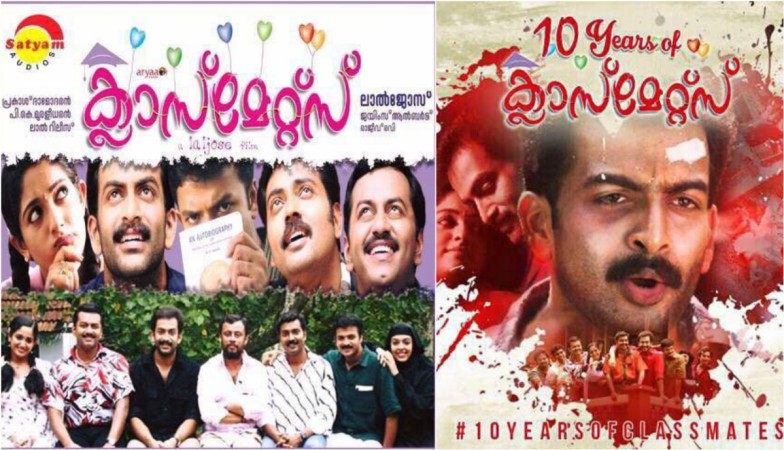 The Malayalam multi-starrer "Classmates" released in 2006, is sure to remain one of the evergreen hits in Malayalam. The campus movie, which became a trendsetter in Kerala, had completed 150 days of its theatrical run in the state and was the highest grosser of the year.
Even 10 years after its release, the Lal Jose-directed movie is being remembered for its freshness, theme and the notable performances of the actors.
10 years of Classmates - Why is the movie so special for Kerala audience?
"Classmates" set in the backdrop of CMS college in Kottayam, has an ensemble cast including Prithviraj Sukumaran, Indrajith Sukumaran, Jayasurya, Kavya Madhavan, Narain, Radhika and Vijeesh in the lead roles. Each of them delivered one of their career best performances in the realistic comedy-romantic entertainer. The friendship, hatred, romance and political differences among them are narrated in the movie, which became a blockbuster in 2006.
Even the names of each characters have made an impact in the minds of the audience. If the names Suku, Thara Kurup, Pius, Murali, Satheesan Kanjikuzhi, Raziya and Vaalu Vasu are told to a Malayali, he/she is sure to relate it to "Classmates."
The story and the screenplay of the movie by James Albert remains an highlight of the campus movie along with the brilliant direction by Lal Jose.
The hidden love story of Murali and Raziya, and its climax were totally unexpected, amusing the movie-goers.
The comedy dialogues by Jagathy Sreekumar (Esthappanachan), Suraj Venjaramood (Ousepp), Indrajith and Vijeesh can still make the audience laugh.
The movie also saw the remarkable performances of Balachandra Menon as Professor Iyer and Shobha Mohan as Lakshmi, among many others.
It was with the release of "Classmates," the concept of alumni meetings started trending in Kerala, and schools and colleges started organising such get togethers to help the ex-students keep in touch with each other.
Every Keralite who has studied in an institution in Kerala that has campus politics can easily connect "Classmates" to their own college days. The realistic approach taken by the makers also brings many nostalgic moments for students who have stayed in hostels, as it shows the fun of staying with friends.
All the songs of the movie — "Kattadi Thanalum," "Kathirunna Pennalle, "Ente Khalbile" and "Vote" — still remain among the popular hits in Malayalam. Alex Paul has composed the music of the film and the songs are sung by Vidhu Prathap, Reju Joseph, Ramesh Babu, Cicily, Devanand, Jyotsna, M G Sreekumar, Pradeep, Vineeth Sreenivasan and Sujatha Mohan.
Rajeev Ravi's cinematography makes the audience fall in love with the beauty of Kerala and the emotions of the actors were well captured by the National Film Award winner.