In yet another blow to the much-hyped Face ID security of Apple's iPhone X, a 10-year-old boy with hardly any effort managed to unlock his mother's iPhone X.
A video has surfaced on YouTube in which a 10-year-old boy is seen unlocking his mother's iPhone X using his face. The interesting part is that the phone's security was set up by her Face ID.
Attuallah Malik and Sana Sherwani discovered this when their fifth-grade son Ammar Malik simply picked up his mother's new iPhone X without her permission and shocked her by unlocking the device with his first glance.
According to Macrumors, the younger Malik was consistently able to unlock his mother's iPhone X without any failure. He was even able to unlock his father's iPhone X, but only at one time, but later his was unable to do it.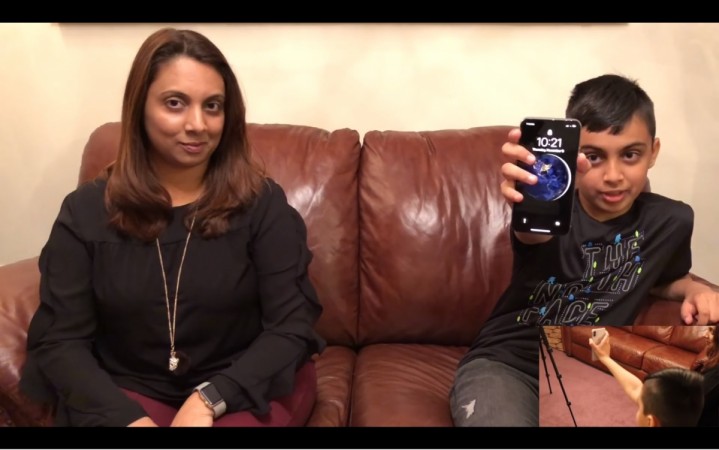 On this matter, Apple said that kids under 13 have a better chance of fooling the Face ID because of their underdeveloped distinct facial features.
Sana Sherwani tried registering her face once again after a few hours in the same indoor lighting conditions in which she set up her iPhone X security the first time, but it did not really help as her son was able to still access the phone with his face.
The important part is that when Face ID fails to recognise the user beyond a limited threshold, and the user immediately enters their password, that time the TrueDepth camera takes another photo to improves its reliability. But in this case, both the parents are clearly saying that no one ever entered the iPhone X's passcode which means the TrueDepth camera hasn't captured any improvements in regards to Face ID.
However, this video is the big evidence that Face ID isn't 100 percent safe and can be fooled by a 10-year-old.
If you are worried about this, we recommend you to use only a passcode to authenticate.
Check the video below where Malik unlocks his mother's iPhone: