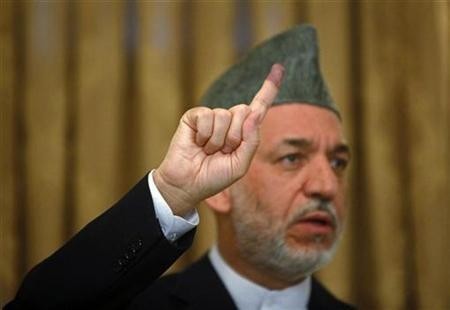 Afghanistan President Hamid Karzai has issued a strong statement after a 10-year-old girl was allegedly pressurised by a family member to wear a suicide vest and go on a bombing mission.
"Children are the future-makers of the country. They should be taken care of, and education opportunities should be provided for them," Karzai said in a statement. "They shouldn't be used as a tool for suicide attacks."
There are conflicting reports about how the plot of the suicide bombing, involving the little girl on a border police station in the southern Helmand Province, was foiled. Whichever way, the news of a young girl caught in a suicide vest has send shockwaves to world leaders.
Preliminary reports on Monday, after the girl was detained, said that she was encouraged to carry out the attack by her brother. According to Karzai, the girl - known as Spozhmai - was forced to attempt the suicide mission and that now she is under the government's protection. The girl's brother Zahir, known in the area as Hameed Sahib, is a local Taliban leader, the country's Interior Ministry told various news outlets.
The Taliban commander brother and his friend reportedly gave the girl the vest and directed her towards a police checkpoint in the Khan Nasheen district. She was taken to a river near the police station and was instructed to cross it, spend the night in an abandoned house and approach the checkpoint in the morning as the police prepared for their daily patrols, Interior Ministry spokesman, Sediq Sediqqi told news outlets.
However, upon entering the water, Spozhmai felt cold and screamed, to which police officers responded. When Zahir saw the police, he took the suicide vest and fled, the spokesman said.
The girl was then taken to the station where she informed the police on how she was pressurised to undergo the suicide bombing.
This is not the first time that the Afghan have apprehended suicide bomber children. 41 children, between the age of 6 and 11, used for suicide missions were rescued by the Afghan police last year.