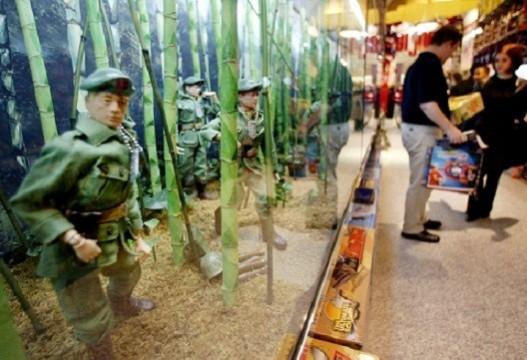 G.I. Joe is a line of action figures, produced by the toy company Hasbro, but the fact that it was the world's first action figure gives it a certain immortality. Despite the setback during the Vietnam war, G.I. Joe toys have continued to have a hold on many young and even old minds.
G.I. Joe turns 50 today, an event that toy-makers and toy collectors across the globe are celebrating. The G.I. Joe is an icon among the American toys. In popular usage, the term G.I. stands for Goverment Issued and, after the first world war, it became a generic term for US soldiers.
But G.I. actually means galvanized iron as during the First World War, the equipment issued to US soldiers were stamped 'G.I.' to convey that they were made of galvanized iron. Similarly there are several such interesting facts around the G.I. Joe action figure itself.
Here are 10 things one must know about the G.I. Joe action figures.
G.I. Joe first hit the shelves in 1964, during the Christmas shopping season and soon became a big seller at $4 apiece.
Till the late 1960s, G.I. Joe remained a popular action toy. But as opposition to Vietnam intensified, thousands of parents tried to keep their children away from army-related toys, leading to the decline in demand for G.I. Joe figures.
Post-Vietnam revival of the G.I. Joe featured "life-like hair" and "kung-fu grip".
Don Levine, Hasbro's former head of research and development, is often referred to as the "father" of G.I. Joe.
It was under the leadership of Levine that Hasbro came up with the 11 1/2-inch figure, with 21 moving parts.
Levine came up with the G.I.Joe idea during the Korean war, in which he had served as the Infantry sergeant.




The first line-up of G.I. Joe came in Army, Navy, Marines and Air Force uniforms, with accessories such as guns, helmets and vehicles.
Over the decades, the G.I. Joe has been adapted into comic books, cartoons and even two movies.
G.I. Joe also has a Collector's Club, and its annual convention - G.I.JoeCon - is held in Dallas, Texas in April.
G.I. Joe was inducted into the National Toy Hall of Fame at The Strong in Rochester, New York, in 2003.