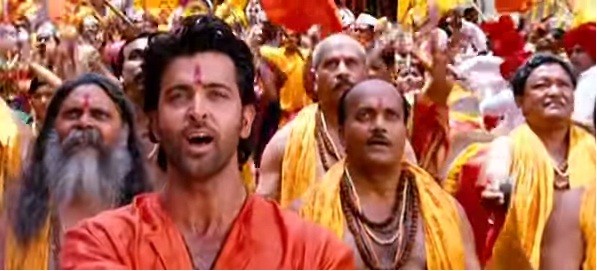 Bollywood has always had the knack of adding more zing to our festivals. Be it Holi, Diwali, Karva Chauth or Ganesh Chaturthi, there's a song for every occasion. One may find many songs in the Hindi films that have been dedicated to the god of auspices, Lord Ganesh. Here is a list of songs that made us groovy, even as we chanted "Ganpati Bappa Moriya".
Sadda Dil Vi Tu (Ga Ga Ga Ganpati): Being a dance-based movie, "ABCD-Any Body Can Dance" directed by choreographer Remo D'Souza, has good beats to each one of its songs. Now combine those peppy beats with the desi feel of a Ganesh Chaturthi procession and you get the smashing "Sadda Dil Vi Tu". The final performance in the movie, the song is not only a visual delight but an upbeat number too that make you want to break into a jig. Hard Kaur infused her rocking rapping essence to the Ganpati aarti making it modern, without losing any of its devotional quality.
Deva Shree Ganesha: From the 2012 remake of the 1990 film "Angeepath", Deva Shree Ganesha is a real treat. Singer Ajay Gogavale's voice drips with devotion as Hrithik Roshan's screen presence and Priyanka Chopra's dancing abilities grab your attention. Towards the end of the song, the repetitive chants put audiences in a trance. Devotional high guaranteed for the rest of the day!
Mera hi Jalwa: Sung by Wajid Khan, this groovy song from Prabhu Deva's 2009 super-hit movie "Wanted" features Salman Khan. Typical to Khan, the video features some unusual, yet cool dance steps that makes every spectator want to dance along. Prabhu Deva, Govinda and Anil Kapoor make surprise entry in the desi song, which was an instant hit with the masses, especially during community celebrations.
Morya Re: This energetic number from Shah Rukh Khan's "Don: The Chase Begins", the 2006 remake of Amithabh Bachchan's "Don", showcases the Ganesh Chaturthi festival in all its pomp and splendour. The track, composed by Shankar-Ehsaan-Loy, was penned by Javed Akhtar and rendered by Shankar Mahadevan. It is sure to get you moving to the beats in praise of Lord Ganapati.
Shree Ganeshay Dheemahi: The song, in the booming voice of Shankar Mahadevan, is from the Amitabh Bachchan-starrer "Virrudh". This beautiful song has a spiritual feel to it and makes you forget all your troubles and immerse in the the divine moment. It has served as the background score for many dance performances carried out in honour of Lord Ganesh.
Sindoor lal chadayo: This inspirational Ganesh aarti played towards the pre-climax of Sanjay Dutt-starrer "Vaastav" also marked the downfall of the criminals in the film, keeping with Vinayak's reputation of defeating the evil. The beautiful track which has a fervent Marathi flavour to it, was composed by Jatin-Lalit and sung by Ravindra Sathe.
Ganapati Bappa Agle Baras Tu: This beautiful song from the 1993 hit "Aasoo Bane Angaarey" celebrated Madhuri Dixit's dance at a Ganesh Chaturthi procession. The song directed by Rajesh Roshan has been immortalised in the legendary voice of Lata Mangeshkar.
Ganpati Apna Gaon Chale: In the original "Agneepath", Vijay Dinanath Chauhan, played by Amithabh Bachchan was a more sombre fellow, with a constant frown on his face. Hence, Mithun Chakravarthy had to do all the dancing in "Ganpati Apna Gaon Chal", which was composed by Lakshmikant Pyarelal.
Deva ho deva Ganpati deva: This classic number form the 1981 film "Humse Badkar Kaun" was the most popular Ganpati song till the late 90s. With its manjeera twangs and dholak beats, the song was a great combination of the dance moves of Amjad Khan and Mithun Chakravarthy. The iconic song was sung by music legends Mohammad Rafi, Asha Bhosle, Shailendra Singh and Bhupinder.
He Ganpati Bappa Moriya: This song from the 1969 black-and-white film "Pujarin" is perhaps one of the oldest Bollywood odes to Ganpati. Starring Vijay Dutt and Rehana Sultan, the song is sung like a bhajan with actors playing cymbals and other hand-held musical instruments while worshipping a huge Ganesh idol in the foreground.