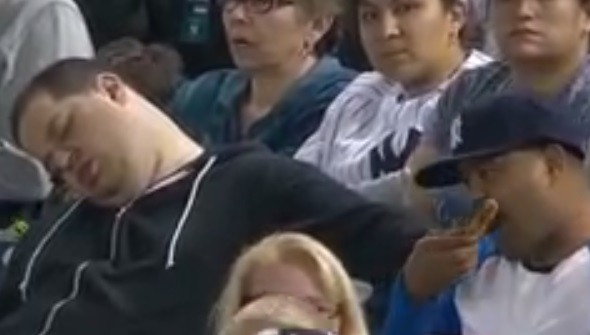 A man has sued sports broadcasting giant ESPN for filming him sleep during a baseball game.
Andrew Rector, in his $10 million defamation lawsuit against ESPN, claims that commentators John Kruk and Dan Shulman hurled an "unending verbal tirade" against him, when he was caught sleeping at the Major League Baseball game between the New York Yankees and the Boston Red Sox back in April.
Rector states that ESPN commentators Kruk and Shulman let loose an "avalanche of disparaging words" which hurt him deeply.
He claimed that while poking fun at him, ESPN commentators made "false statements", suggesting he was "not worthy" of being a Yankees fan. They called him "a fatty cow that need two seats at all time and represent symbol of failure," he stated in his lawsuit, reported New York Post.
The video of the game on the Major League Baseball website does not show any of the two commentators saying the 'words' Rector mentioned in his complaint. Instead, when Rector comes on screen, the two can be heard joking about how the man sitting next to Rector might wish he could sleep rather than stay awake.
Rector stated the incident caused "substantial injury" to his "character and reputation," and led to "loss of future income and loss of earning capacity".
The lawsuit, which was filed on 3 June, contained several grammatical mistakes, including typos, it was reported. ESPN, however, has refuted the claims and has stated that it would take the case head on in court.
While Rector is yet to make any public statements on the incident, his mother has hit out against Kruk and Shulman calling them "idiots" that one "need not make fun of people who are harmless".
Besides the commentators and ESPN, the $10 million lawsuit has also named Major League Baseball and the Yankees as defendants. The bizarre defamation case has left many wondering as how the New York Yankees were responsible for the incident?