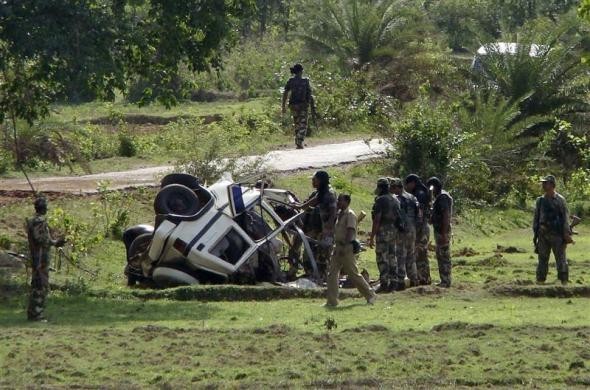 A fierce gun battle between the banned CPI (Maoists) and Tritiya Prastuti Committee (TPC) in Jharkhand's Chatra district claimed 10 lives. All the rebels killed in the clash were from the Maoists group, according to police.
The violence began on Wednesday evening at Lakramanda forest, 20 km from Kunda police station in Chatra. It continued till Thursday morning, killing 10 Maoists, including four leaders from Madhya zone. Those killed were identified as Lalesh Yadav, Jaikumar Yadav, Dharmedra Yadav alias Biru and Prafulla Yadav.
TPC, founded Brajesh Ganju, is a splinter group of the Maoists, active in areas Chatra, Latehar and Ranchi.
"At 4 p.m. on Wednesday, we got information of exchange of fire between TPC and Maoists in Kunda. Two teams of 80 troopers of Commando Battalion for Resolute Action (CoBRA) and 15 from District Armed Police left for the spot at 10 p.m. but reached only by 3 a.m. They fired 80-90 rounds between 3 to 4 a.m. By day break, both Maoists and TPC had fled. We recovered 10 bodies of Maoists; nine were in uniforms and one in plain clothes and we recovered arms," Jharkhand Director General of Police Rajeev Kumar told The Hindu.
"Maoist leader Lalesh Yadav had arrived from Gaya to assist a group of the rebels with whom we had an encounter in Gumla district on March 13 and 14, to travel back to Bihar, but his group was intercepted by TPC."
One TPC personnel it believed to be killed and two others injured in the encounter.
Police said that an AK 47 rifle, two .303 police rifles, three .315 guns, one carbine and other ammunition were recovered from the battle scene.
The Maoists had earlier alleged that the Jharkhand police were using rebel groups including the TPC to fight against them, but the police have denied it, saying that both the rebel groups are same to them.